Next up was Tweak Bird from LA, we'd been recommended to check this band out by our friends from Belmont bookings and what a great recommendation it was, this duo are similar to Big Business but with high pitched vocals, very rhythmic and pretty hypnotic in terms of how their set builds, we loved them and fingers crossed they will be joining us for Supersonic.

Popped in very briefly on our way home to see our buddy Drop The Lime, he was just starting to warm up the party and get the crowd going but we were pretty worn out but this point so headed home after a short while, afterall we had fitted in about 8 bands in one night.
The following  day we started with a couple of meetings with various European agents and then a catch up with Gordon from Relapse Records , exchanged some contacts and ideas for Home Of Metal, as Gordon used to be the US press person for Earache back in the day.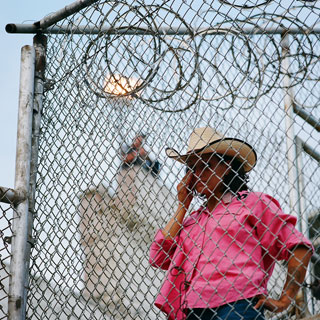 Late afternoon we sheltered from the 80+ degree heat by going to a screening of SWEETHEARTS OF THE PRISON RODEO, a documentary as part of SXSW Film, which follows the journey of female prisoners in Oklahoma state penitentiary who compete in a gladiatorial type rodeo. The film had us gasping in horror, shedding tears and also laughing a truely heart wrenching hour and half.

That evening was the Southern Lord showcase, which we attended after going for dinner at Moonshine Bar & Grill with some of the Bristol music group, we consumed a couple of rather potent Patron based margaritas which set us up for another evening of shows.

We took Bristol based sound artists Duncan Speakman along with us and also met up with Brian Hickam from The University of Toledo Libraries who is also working towards creating a Heavy Metal archive, was great to have the chance to talk with him about potential links for our Home Of Metal project and building opportunities for the project to become trans atlantic . Brian was sporting one of our Home Of Metal t-shirts!
Southern Lord showcase was a great chance for us to catch with old friends Pelican, we compared pup photos and made sure they weren't going to get themselves embroiled in any bar room brawls after their heroic involvement in our SXSW showcase with Oxbow in 2007. We arrived just in time to catch Black Cobra, again another duo who make a tremendous racket, heavy as hell!
Followed by a solo acoustic set by Wino of Saint Vitus & The Obsessed, Spirit Caravan fame, which was a little over shadowed by the din of people chatting but was still pretty moving.

The highlight however was Wolves In The Throne Room, who we've had play in Birmingham just recently, they played a ferocious set, and despite the show being in a white tent in what is normally a car park, they still managed to create quite an atmospheric performance with big candles on the side of the stage and loads of dry ice.

Also managed to pop over the road to Red 7 to catch a few songs by Kylesa before hitting the road for bed.
And still more to come…