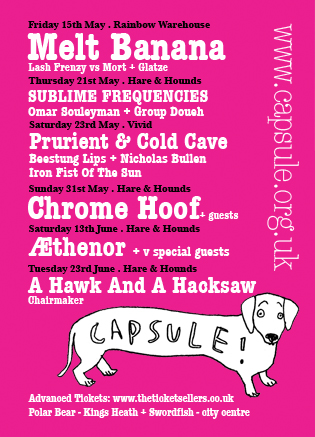 We have some pretty amazing shows in the lead up to Supersonic Festival, which include a welcome return of Japanese band Melt Banana, who sweat out a super-adrenalized, maxi-caffeinated collision of frenzied drum rhythms and torturous guitar squeals they are joined by a special performance by  Lash Frenzy (members of Einstellung) Vs Mort and circuit-bender extraordinaire Glatze – this show takes place at the Rainbow Warehouse in Digbeth.
Followed by the first ever Sublime Frequencies tour with Group Doueh (from the Western Sahara) and Omar Souleyman (from Syria) plus Sublime Frequencies DJ set and on certain dates Sublime Frequencies film screenings – this will be a truely unique evening taking place at the Hare & Hounds – not to be missed!

On the 23rd of May Capsule will be taking over Vivid, an arts venue located in deepest darkest Digbeth. Bring ear plugs its going to be a loud one with live performances by  one man noise outfit Prurient playing in collaboration with Cold Cave (members of -Some Girls, Give Up The Ghost, Xiu Xiu), with support from rowdy locals Beestung Lips, Nicholas Bullen & Iron Fist Of The Sun.

Then to round off May we invite back silver clad doom disco divas Chrome Hoof who were one of the highlights of Supersonic 07, for those of you not familiar with these guys think Grace Jones meets Sabbath with a little Sun Ra for good measure!

to follow info our June shows…coming soon
Tickets for all the above shows can be purchased from www.theticketsellers.co.uk
Polar Bear on York Road in Kings Heath + Swordfish in Birmingham city centre