Roadburn 2009 poster by Malleus
We're just back from Roadburn Festival in Tilburg and had a blast, saw some amazing bands and caught up with friends from all corners of the globe.  Highlights included being kindly invited by Walter to put a panel together as part of the networking event, we discussed the uniqueness, inspiration and similarities of festivals such as Roadburn, Supersonic, Beyond The Pale & Equinox, this was chaired by Louise editor of Terrorizer Magazine. It was a totally surreal experience sitting on a panel with Steve & Kristin Von Till and Scott Kelly from Neurosis as well as being  the curators of Beyond The Pale, sometimes you just have to pinch yourself!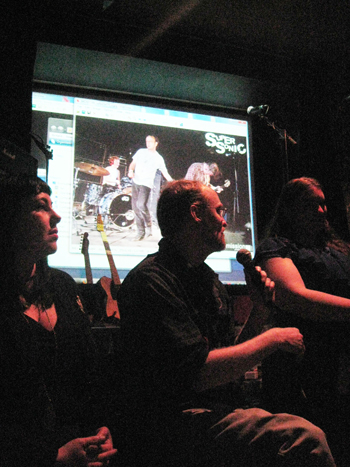 Me, Walter & Louise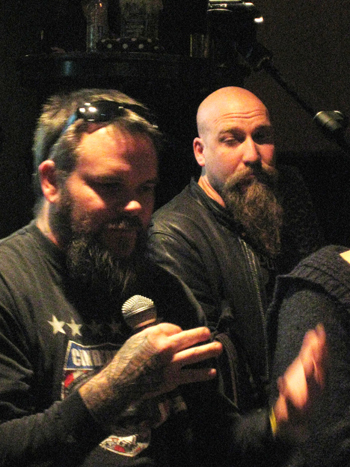 Scott & Steve from Neurosis
The 013 venue which houses the Roadburn festival is an inspirational space, run mainly by volunteers, with 3 different size venues with in one – ranging from 150  to 2000 capacity (2750 all in), friendly staff, cherry beer, fantastic sound, also sells vegan food and most importantly is independtly run . Its exactly the sort of flexiable music venue Birmingham needs. Birmingham City Council please take note this is an excellent example of a state subsidised building, used for a range of events and is totally unique to it's city – no need for a Bar Fly or Academy chain!


013 the host venue for Roadburn Festival
Music wise – highlights over the 3 days were Rose Kemp who mixes the heaviest sound with the most incredible folk vocals, the whole room was mesmerized by her performance and her shiny dress, if you don't know her work you should check her out. Neurosis were fantastic, kinda goes without saying, they always give their all with their performances – totally focused. Mono managed to move grown men to a state of emotional bliss, a strange experience being surrounded by all these men of metal whom seemed melted by Mono's emotional performance, Black Sun joined Eugene from Oxbow as part of his spoken word, which really put in context his stage persona, Zeni Geva were however the band of the weekend for me, everything that I hoped for as we were starting to flag by the third day, they rocked out and exuded some much needed energy by that point, think the heaviness of the Melvins with moments of free jazz. They finished their set with Deadsunrising…treats of treats! (and even better KK Null and I discussed our love of small dogs in broken English – indeed a subject that can unite folks).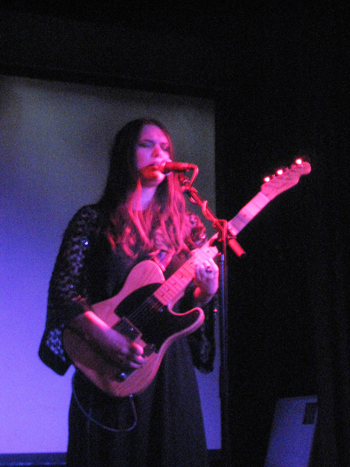 Rose Kemp
As with all good festivals its a chance to catch up with friends from far away places and also meet new ones, of course a lot of this is done over a drink or three…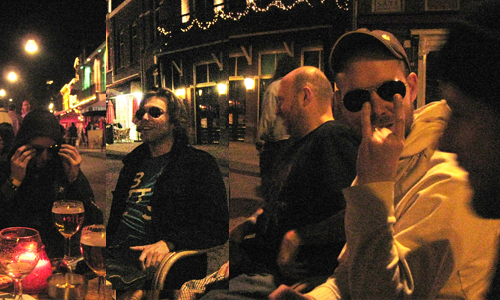 David (+1 Magazine), Paul (Una Corda), Jamie (Guardian) + the guys from Baroness enjoying a good game of trying on found sun glasses by night – they were blinding.
With Yvonne our host for the weekend and also Supersonic international press person, clearly having fun backstage with the free beer!

And finally me doing me Keiji Haino impression
A massive thanks to Walter & Jurgen, Yvonne, the 013 team and all the artists that performed, it was our third visit to the festival and we hope to be back next year, was a wonderful weekend and would highly recommend a visit. (best get in quick though as this years festival sold out in 45 mins of going on sale)
please note Jenny does not feature in any of these photos because she is always taking them