There is a strong metal presence at this year's festival as Supersonic embraces Birmingham's musical heritage.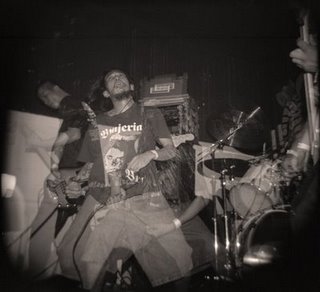 Home of Metal is a project that has been raising the profile of the West Midlands region as the birthplace of Heavy Metal, citing Black Sabbath, Led Zeppelin, Judas Priest, Napalm Death and Godflesh as key players within this genre who all came out the area.
Festival goers will witness the torturous Japanese 'funeral doom' band Corrupted who have embraced their heavy metal influence while twisting the genre to a parallel universe where guttural roars follow extensive harp pieces and atmospheric doom accompanies all out head banging sludge. It is fitting that the first UK show for this now cult band will be in the place where Black Sabbath originally discovered their dark ominous sound which still resonates in the haunting heaviness of Corrupted.
The reformation of Head of David is another reminder of the diverse interpretations that can be born out of Heavy Metal. This Black Country band were one of the first industrial metal bands, the tempo is slowed down and distorted. They create a heavy haze that subsequently poured into the sounds of Godflesh and Ministry.
Ex Napalm Death drummer Mick Harris will be playing the festival as industrial dub act Scorn. The sounds of Scorn take those dark, heavy sounds of Heavy Metal and strip them bare, creating a uniquely mucky minimal sound.
The influence of West Midlands' Heavy Metal can be made out through the thrashing and pummelling of Kylie Minoise. His hectic bursts of noise a reminder of the early Napalm Death tracks that pound into submission. Kylie Minoise's reinterpretation of the one second long Napalm Death track 'You Suffer' was released in 2007 – it's over an hour long.
Other Heavy Metal influenced performances at Supersonic 2009 will include grunge doom from Thorr's Hammer, thrashcore from The Accused, power grind from Iron Lung and a wealth of bands embracing dark, psychedelic and experimental sounds – whether they linger gloomily for eternity or smash into you briefly as a burst of noise.
In addition to these crushing sounds, a number of Home of Metal events will be taking place over the weekend. Catch Kerrang! Radio DJ Johnny Doom in discussion with Greg Anderson and Stephen O'Malley of Sunn0))), discussing the influence of West Midlands' Heavy Metal. Dr Niall Scott of the University of Central Lancashire will be lecturing on the 'monstrous male figure' with Heavy Metal and their will be a screening of the Vice film 'True Norwegian Black Metal'.
Tickets – Weekend tickets – £70 / Friday Ticket – £15 / Saturday Ticket – £35 /Sunday Ticket – £35
available from: www.theticketsellers.co.uk
24 hr order line – 0844 870 0000 – Calls cost max 5p per min from BT landline

Also available from
Polar Bear + Swordfish – Birmingham
Rough Trade East – London
Plugd Records – Cork