Interview by Terrorizer Magazine
Former Napalm Death frontman and Scorn mastermind Nik Bullen has joined up with JOHNNY DOOM, ex of Doom and Sore Throat for a special performance at this year's SUPERSONIC FESTIVAL (Birmingham Custard Factory, July 25-26) under the name LIGHT TRAP. With little information out there other than the promise of 'blackened and primitive noise rock', Johnny let us know what's up.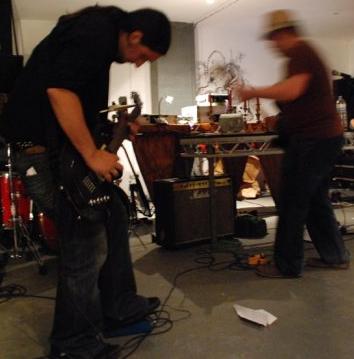 Introduce Light Trap to us, what's the story and what's it like?
"Light Trap is a new collaboration between myself, Nik Bullen and Dougie who drums for a great local atmospheric post rock band called Una Corda. We originally jammed together for a Fluxus art show which was collated by Mr Bullen, where we performed two improvisational pieces especially for that evening. After the show we hooked up and discussed pushing the project further, which we are currently in the process of doing now."
Have you rehearsed together?
"Yeah, quite a bit actually and I've really enjoyed it so far. We have so many ideas and similar influences that we probably have too many ideas at the moment, but it's the freedom of the guitars that I am enjoying the most. As a three-piece you can really work off each other and there's a really loose, noisey aspect to it, so I get to go mental."
Obviously you and Nik probably go back a long way, do you remember first meeting him?
"Of course. He was at the Mermaid all the time when we started Doom in about '85 and we all hung out, got trashed and listened to music together. I lost touch with him for a while, but then we got back together and made some more music just before he started Scorn. We've had our ups and downs over the years, but always kept on a good level."
A collaboration between Nik Bullen and Johnny Doom is going to bring some crusties out in palpitations, do you reckon any long-term followers of your careers will be into it?
"Yes and no. The stuff we're working on is quite proggy and noisy and al ot of it is just music with no lyrics. People expecting Napalm Death or Doom will probably find it a bit too arty!" he laughs. "However there is enough sonically that could interest lovers of punk, grind, noise and psychedelics alike. I just hope that people will feel the same freedom from it that I am. Music for me has become so ordered of late, so predictable. Its nice to be creating beautiful chaos again."
Anyone you're looking forward to catching at Supersonic?
"Lots…Goblin, Head Of David, Thorr's Hammer….too many to mention. A lot of the music I'm not even familiar with, but one of the most intriguing things about visiting Supersonic is just ambling around and experiencing new sounds and concepts. It's a wonderful festival."
You've been quite active in the whole Home Of Metal thing, what kind of impact do you think Supersonic has had on the area's music scene?
"Supersonic festival and Home Of Metal project are really just an extension of the fantastic work of Jenny and Lisa from Capsule who have been putting on events and gigs in Birmingham for many years now. Their overall mission statement, to bring fresh underground experimental music to Birmingham has been very effective and brought with it so many exciting new aural experiences to starved locals that we are endebted to them for all their hard work. Long may they reign!"
For Tickets to Supersonic Festival buy here