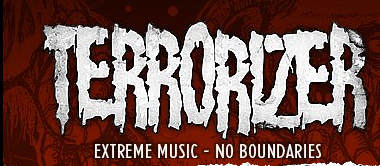 Terrorizers'JamMin caught up with Runhild Gammelsæter of Thorr's Hammer about their performance at Supersonic Festival.
Unless you've been living under a rock, or find anything slower than Agoraphobic Nosebleed "a bit dull and uninteresting", you've probably heard that legendary doom troupe Thorr's Hammer (the Thorr's Hammer that gave us drone daddys Stephen O'Malley and Gregg Anderson) have reunited to play this year's Supersonic Festival. Sufficed to say we were a bit excited, so naturally we bombarded the University Of Oslo with phone calls and emails until we got hold of Dr Runhild Gammelsæter to get the lowdown on the whys, whens and hows from the vocalist extraordinaire.
People often have a quite cynical view of bands getting back together (and rightly so), so why was now the right time to do this?
"We didn't want to do a reunion previously because we thought it sort of cynical, not 'cult' and not 'true' as we say in metal. All members of TH are old friends, I still call Steve when I have a broken heart. I love those guys to death. But we are getting old, people are having babies, careers, living all over the world, rarely seeing each other. We loved the idea of having an opportunity to fly everyone in, spend time together and experiencing the vibe between us again. It may be the last opportunity we have to do that."
How were you occupying your time between Thorr's Hammer and Khlyst? Were you still engaged with music? Have you been working on any other projects more recently?
"When I left the states and TH disbanded, I studied for ten years at different universities getting my PhD. Khlyst came out in 2006, but James and I had been working on that for a year or so before the release. I worked minimally with music while I studied, spending all of my times with books and in the lab. Played some guitar at home, singing Nirvana and Gram Parsons, which perhaps prepared me for my solo record released last year."
Read the full article at Terrorizer
Thorr's Hammer play for the first time in a long time at this years Supersonic Festival on Saturday 25th of July and at the Scala in London with Corrupted & The Accused on Sunday 26th Of July.