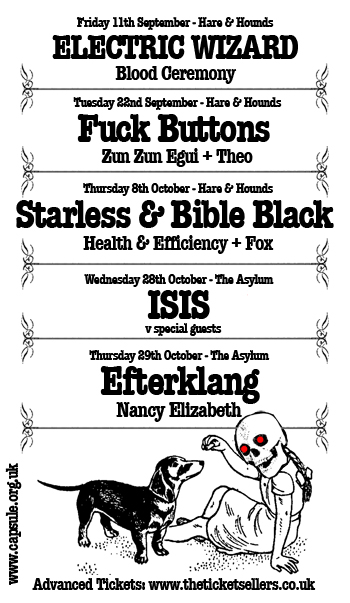 Ok folks we have a number of shows coming up over the next couple of months and we're pretty stoked on the selection.
Kicking off with ELECTRIC WIZARD,  a crushing behemoth of funeral march psychedelia with support from Canadian flute-tinged witch rock, BLOOD CEREMONY – think Jethro Tull mixed with Sabbath!
Be aware that this show is selling very fast and our capacity is limited!
A welcome return by Capsule favourites FUCK BUTTONS, with support from ZUN ZUN EGUI, a  heavy dance band, they fire up mighty, eternal grooves worthy of some dust-caked Lagos street jam. THEO – Taut, chugging guitar loops layer up with frenetic tapping patterns that interweave in spiralling complexity.
STARLESS & BIBLE BLACK have drawn together the sounds of '70s Topanga Canyon country-rock, '80s Mancunian jangle, and space-age psychedelic drones to make a dynamic, warm and woodsy sound. Support from FOX, intimate, acoustic-led songwriting combining a wide variety of instruments, including guitars, banjo, percussion, keyboards, theremin, mandolin + new Birmingham based collective Health & Efficiency, who combine banjo, two basses, two guitars, synths, samplers and more effects and loop pedals.
ISIS are back in Brum, expect heavy, slow and brutal sounds, whilst hypnotising and entrancing you all with their live show. They will be bringing with them a very special support act – more news on that soon. This will be our first show at The Asylum in Hockley, which we're really excited about using, good beer prices & great PA.
EFTERKLANG with support from NANCY ELIZABETH will also be taking place at the Asylum on the following night – expect an upbeat atmosphere and with  a sense of hope and optimism, these guys will leave you with a massive smile on your face – what more could you want from a gig.
These are just for starters – also confirmed for November DAMIEN JURADO, WOODS/ESPERS/THE CAVE SINGERS + OXBOW
Tickets can be bought in advanced from www.theticketsellers.co.uk
Polar Bear – York Road, Kings Heath
Swordfish – Birmingham city centre