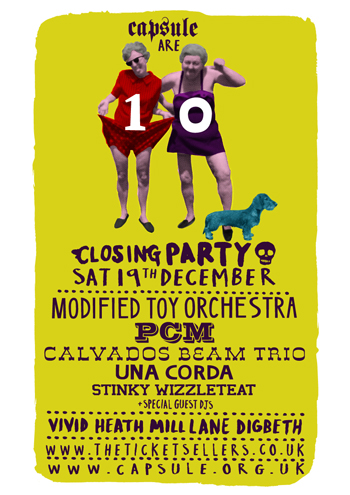 So the birthday celebrations come to an end tomorrow and for the closing party we are keeping things local – so if you're not from round these parts it's time for an education in Birmingham underground music. Showcasing both acts that have stalked Capsule shows since the early days and the brand spanking new, this frenzied party of dark lords, Barbie dolls, sweat and growls should round things off nicely.
Doors are at 6 – yep it's an early one. There's a free gift to the first 100 through the door plus a raffle, short films and snacks to go alongside the wealth of incredible local artists.
Many folks have asked for a running order so here is an approx one give or take 5/10 minutes:
Doors 6.00pm
6.45 pm Stinky Weasel Teats
7.45 pm Una Corda
8.55 pm Kipple
9.10pm Health & Efficiency
10.10pm Modified Toy Orchestra
11.20pm PCM
1.00 am Curfew
This will be sprinkled with various DJ sets – expect a fair bit of reach and grab action!
Last few tickets available from www.theticketsellers.co.uk