Audience from Supersonic 2009 by Mark E Rhodes
We've just come back from a Birmingham City Council consultation meeting about the cities 'Music Industry'. Over the 10 years we've been doing Capsule related activity we've been invited to a fair few of these things and still very little seems to have moved on.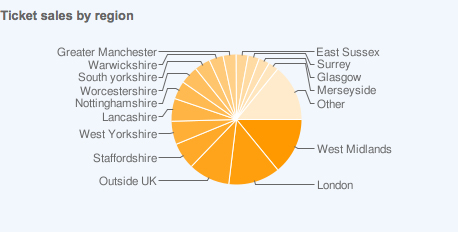 It occured to us that based on our breakdown of tickets sales from Supersonic (see above) we have a relatively small West Midlands audience and having spoken to other independent folks within this area this seems to be the case across the creative industries. Birmingham dates regardless of genre always seem less well attended to those in other cities in the UK. There is no doubt there is a wealth of talent and tonnes of great people working really hard to promote stuff, run venues, labels etc. However it seems across the creative industries there is quite a limited regional audience that engages with independent  activity. So my question to you wonderful folks is why do you think this is?  What are the barriers and how do we work towards resolving it?
We'd be really happy to open this debate so – answers on a postcard.