Acid Mothers Temple
Photography – Katja Ogrin
Stearica
Gum Takes Tooth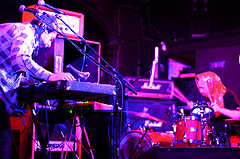 Photography – Julia Murphy
"It's been two years since Acid Mothers last appeared at the Hare and Hounds, providing a much anticipated return all round, and they certainly don't disappoint.
The adventurous thrill is still there, but has matured and induced on a whole new level, developing a star-gazing, out-of-this-world theme that leaves you breathless.
The fiercely Egyptian-sounding 'The Tales of Solar Sail' whirls an evading concoction of space age Roland synths with snake-charming guitar riffs, making the audience succumb to a hypnotic trance performed by true Pied Pipers.
By this stage, you could physically see the music pulsating around the room, leading everyone on the same journey of amazement, awaiting the Pharaoh to rise from his tomb."
Read the full review on Brum Live
Review – Ross Cotton
Images – Katja Ogrin & Julia Murphy