Thanks to all who came to this show at the magnificent Town Hall. It was a sell out show and both MTO and Micronormous were wonderful.
The Times review by Stephen Dalton: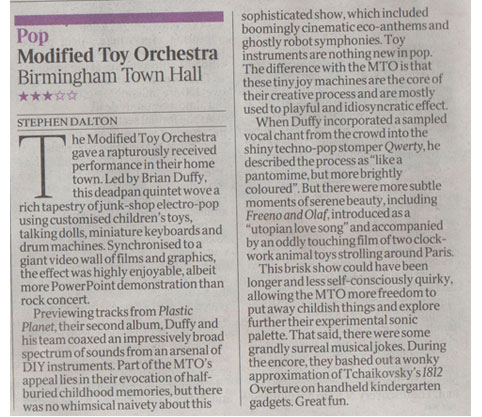 With a rocket that can count up to ten in different languages, a toy guitar, a Speak and Spell and a creepy-looking Hula Barbie, no Orchestra comes anywhere close to being like Modified Toy Orchestra.
Read the full Brum live review here
Pictures: Katja Ogrin, Words: Ross Cotton
Next Capsule show is 29th September at Hare and Hounds – avant folk artist Josephine Foster performing a special collection of traditional Spanish folk songs along with the Victor Herrero band, support from sound artist Swallows.Tickets can be purchased in Polar Bear, Swordfish and here