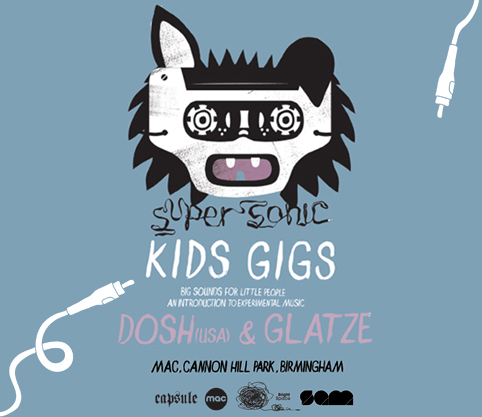 Saturday 23rd October
11am + 2.30pm
mac Cannon Hill Park Birmingham B12 9QH
Tickets £5 Bookings 0121 446 3232 www.macarts.co.uk
For 2 – 7 year olds and their families
A 1 hr workshop & performance exploring experimental music aimed and kids and their families.
Ever since Schoenberg and Kandinsky became pen pals back in 1907, avant-garde art and experimental music has been attempting to find some common ground.  But, it's not been easy.  While modern art is a mass phenomenon, experimental music is often derided and ignored by the masses.  Here's our contribution towards a solution: 'Big Sounds for Little People'.  If you couldn't guess from the snappy title, it's a gig, for kids and their families, which aims to introduce children to experimental music at an early age.
Featuring US based, Dosh, a one-man band, a virtuoso, and West Midlands local circuit-bending fiend Glatze.  Glatze uses customised instruments (including: circuit-bent Furby dolls and kids' toys) that have been specially rewired to create all sorts of musical wizardry. Dosh a multi-instrumentalist; combines a host of instruments into an exciting and unique live experience.  See firsthand how these unlikely instruments are used to make noise / sound / music, and to have a go yourselves.
Produced by Capsule + mac with support from Bright Space + SAM
For info about Supersonic Festival check here