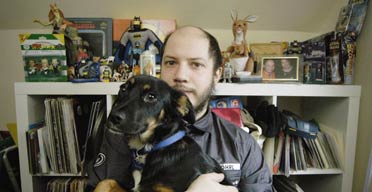 Stuart Braithwaite of Mogwai at home with his dog (Picture: Pete Millson)
We did a short interview with Stuart at Supersonic Festival 2010, he talks about his experience of visiting as a punter, djing and performing with Mogwai. He doesn't mention the infamous year of the bomb – when it was in fact his mum that telephoned from Glasgow to let us know that Birmingham had been evacuated due to a bomb scare and we had to close the festival. Stuart is also a big fan of Frank the pup, which of course gives him extra points.
Mogwai play the HMV Institute on Thursday and we can't wait to hear their new material played live – Hardcore Will Never Die went into the UK album charts at number 25.

The video was shot and edited by the very wonderful HTFmedia gang
http://htf-media.blogspot.com/