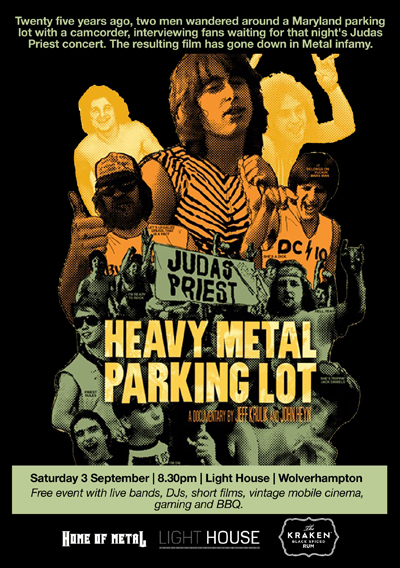 Part of the Home of Metal Black Country Weekender, we'll be screening the legendary
'Heavy Metal Parking Lot' It's 25 years since Jeff Krulik and John Heyn walked around the Capital Center's parking lot in Maryland, interviewing boozed up rockers before a Judas Priest gig. The resulting document has become required viewing on tour buses across the globe, and now you can enjoy the clothes, the hair and the language in all their glory – in the Light House's courtyard.
There will also be film shorts courtesy of Flatpack festival and DJs, plus live music from Selfless
"4 piece, insane politically/socially charged hardcore hardcore punk/crust/grind band.Lying somewhere between Black Flag/Heresy/Discharge…"
+ Stinky Wizzleteat
"Formed some time in 2008, Stinky Wizzleteat have garnered some sort of a reputation, leaving a trail of blood, sweat and broken amplifiers behind them. United by a mutual love of the Bad Brains, Wizzleteat carve out a sound informed by groove from across the musical spectrum, whilst staying fully committed to heaviness, good times and volume."
This event is sponsored by The Kraken Rum and free rum cocktails will be available and best of all the event is FREE too from 8 – 11pm.
Metal on Film is part of Home Of Metal for the full program of screenings see HERE
and for the full Home of Metal season see HERE.
Be warned last time we showed Heavy Metal Parking at Capsule & cake way back in 2002 we had the most legendary & messy party, prepare for one mighty hangover.