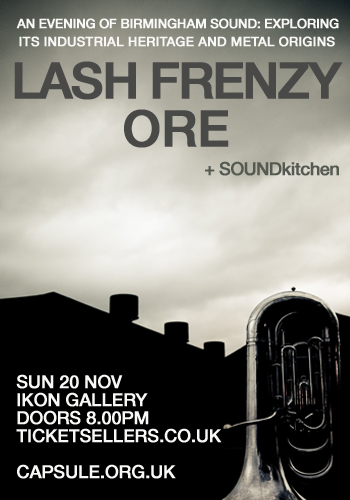 Join us this Sunday as part of Ikon Gallerys Autumn Almanac. Capsule present an evening inspired by the sound of Birmingham (visit https://third.co.uk/ for more info) its industrial heritage and metal origins.
Andrew Moscardo-Parker performs as Lash Frenzy. Central to his sound work is a rejection of
narrative and a focus upon the present, the 'now'. His work as Lash Frenzy explores the action of playing, turning performances into immersive, participatory events. For this performance, Andrew will be paying tribute to Birmingham musical history, as the piece will work around the first 3 notes of the song 'Black Sabbath'. These particular 3 notes are called Tritones and were known in Medieval times as the 'Devil's Intervals'.
Ore are a drone doom tuba group. The Sound of Ore can be heard where classical, experimental and metal musics engage. The material is rare; a synthesis of musical elements. Ore forge the power and depth of brass with the care of craftsmen. It is the sound of Birmingham: its industrial heritage, metal-working origins and creative innovation. Listen HERE
In addition you will be able to hear a selection of works by SOUNDkitchen, in response to Capsule's Home of Metal project, sound artists have submitted material based on the notions of 'metal'.
Tickets available online HERE and will also be available on the door.
The event begins at 8:00pm.