HARVEY MILK
Birmingham Hare And Hounds – 22nd May 2012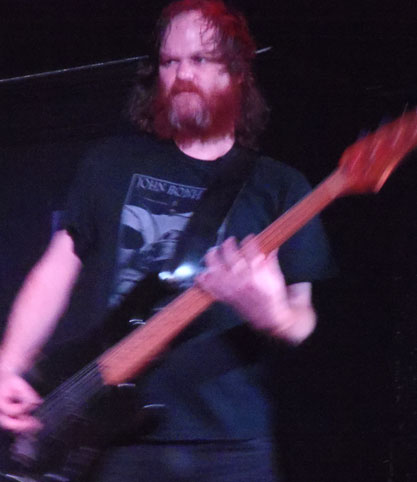 Review by Matthew Tilt
It's a rare enough event to catch the incredible Harvey Milk live in the UK; to catch them on Harvey Milk Day is something that puts the average mind at the risk of exploding. It seems pointless discussing and debating what genre these Georgian boys fall into because in the live setting they fit neatly into some heavy, nasty and obscure corner of jazz.

You're all looking at me now; wondering what the hell I took before I saw Harvey Milk but I assure I know what I'm talking about here. You see, escaping from the heat and into the top room of the Hare and Hounds I stumbled into the venue a little disorientated and I stood staring wide eyed at the three piece on stage, each riff creating a monolith of feedback that literally shook people in front of me.

The advantage of seeing the band literally working like cogs in front of you, is that you see where each song starts, and every time it started from the slightest thing and built up around this idea creating something that seemed simple, deceptively so because in reality it was something that carried a complexity that kept all three in time and in sync with each other.

Creston slips his inimitable voice into crevices and cracks

in the music; wailing like a shaman or crooning before he rocks out in sudden, almost improvisational blasts of good, solid classic rock. There's no such thing as a perfect set, but it's hard to think of a better one. Half the time they don't even need to speak because the crowd stay transfixed throughout, only daring to move when the speakers roar with the openings of a new song, and never daring to disrespect something as rare and as beautifully ugly as a Harvey Milk performance.
Review from sonicshocks.com