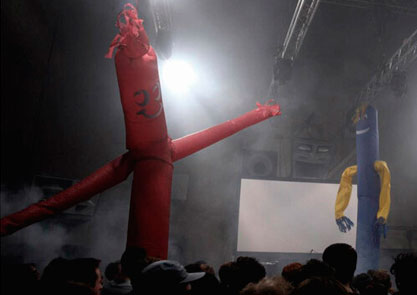 Mark Fell's performance at the Berghain
A couple of us at Capsule had the good fortune of spending a few days in Berlin  to witness the digital arts event Transmediale, and its sister music festival CTM.
The theme of this year's Transmediale was 'Back when Pluto was a planet' so there was plenty of 90s early 00s references and investigations into the rapid changes in digital art and communications. There was also a lot of discussion around paper and publishing, the future of the book and digital book production and distribution. Some really interesting stuff that will no doubt feed into the opening season for the Library of Birmingham, which we are currently programming.
CTM had a pretty vital line up this year with performances by current essentials such as Andy Stott, Dean Blunt and Holly Herndon as well as special events with Pantha du Prince and Capsule favourites People Like Us, Sunno))), Khyam Allami and Eugene Robinson. One highlight was the excellent PAN showcase at Berghain, a line up of wholly distinct artists who made perfect sense of one another, featuring Lee Gamble, Florian Hecker, Jar Moff, Heatsick and Mark Fell and Keith Fullerton Whitman.