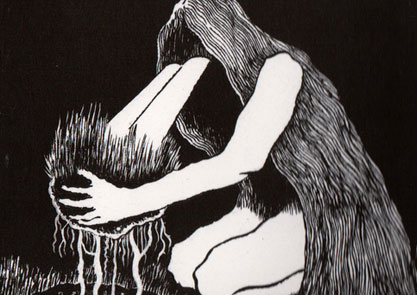 Grumbling Fur artwork by Alexander Tucker
In advance of our special event in April at St Paul's church, check out Grumbling Fur who will be performing along with Barn Owl and Ex Easter Island Head.
The duo of Daniel O'Sullivan and Alexander Tucker will be familiar to any Supersonic fans, Tucker performed to a packed out Theatre space in 2011 and also performed in 2006 and 2008 (watch). O'Sullivan  has performed at the festival under various guises including Miasma and the Carousel of Headless Horses (watch), Guapo and Mothlite.
"The dual vocals of O'Sullivan and Tucker are a defining feature, but the masterful, metamorphosing fluidity of their instrumental play is just staggeringly attuned and requires your attention at the nearest possible opportunity if you're into anything from Barn Owl to Æthenor or The Haxan Cloak." Boomkat
Saturday 27th April
Supersonic Festival presents:
Barn Owl + Grumbling Fur + Ex Easter Island Head
St Paul's Church, Birmingham
Tickets are £14 advance via www.theticketsellers.co.uk