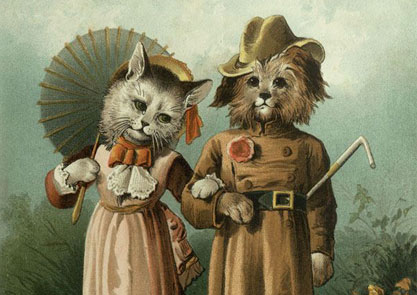 Robinson Crusoe, The Clever Cats & Co. (1881) London: Thomas Nelson and Sons. Parker Collection
The Library of Birmingham have been releasing images from the Parker Collection via their website and we must say, a lot of them are right up Capsule's alley (animals in clothes you say?).
We've just announced a number of opportunities for artists to develop and exhibit work as part of the Library of Birmingham opening season. One opportunity is to develop a number of illustrative characters to be displayed in the Children's Library. Artists might draw inspiration from the Parker Collection of Children's Book and Games and can find more information via www.libraryofbirmingham.com/parkercollectiongallery
More information on this commission, as well as the Creative Residencies programme can be found via www.capsule.org.uk/project/library-of-birmingham-opening-season where you
can download the briefs and assessment criteria.