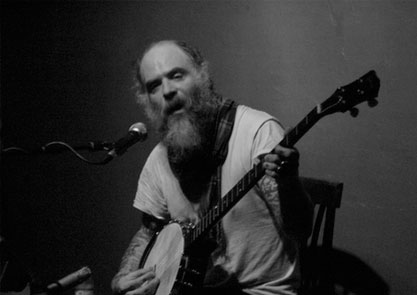 We're very excited that in only one week the exceptional performer Daniel Higgs will be in Birmingham for an intimate show. We implore you not to miss this!
"It's difficult to describe Daniel Higgs without tapping into his mythos. The once (and future?) Lungfish singer and lyricist is a punk-rock medicine man, high on tautological contradiction and subject to stories that are difficult to prove or disprove.
He once was known widely as a tattoo artist who didn't take orders: A Higgs tattoo would be what Higgs chose, or rather, what he divined from whatever higher force he was channeling. Other rumors abound: Some of his own tattoos are said to glow in the dark. In his hometown of Baltimore, his beard has received votes for mayor." Pittsburgh City Paper
Come meet him on Wednesday 15th May at Hare & Hounds Kings Heath. Doors are 8pm and support comes from Northumbrian guitarist The Horse Loom. Tickets are £8 advance and available from www.theticketsellers.co.uk
Daniel Higgs: Sing A Song Pt.I from Windows Have Eyes on Vimeo.