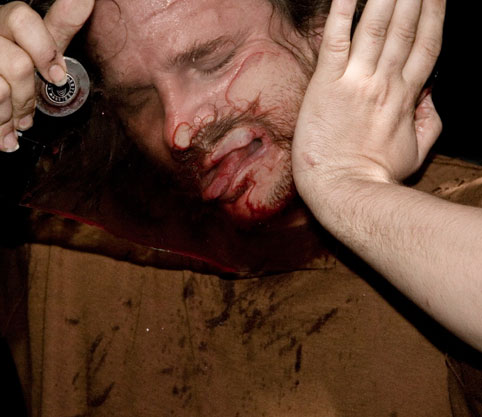 Thanks to Cathy Soreny and Emma Vickers of Tinnitus Jukebox for sharing their video of Justice Yeldham aka Lucas Abela performing live at last year's Supersonic Festival. They're currently making a documentary about Lucas' Vinyl Rally installation, one of the highlights of Supersonic 2012.
As Justice Yeldham, Abela creates an other-worldy sound by pressing his face and lips against glass whist employing various vocal techniques ranging from throat singing to raspberries.
Justice Yeldham – live @ Supersonic 2012 – full performance from Tinnitus Jukebox on Vimeo.
Supersonic Festival returns 25-27 April 2014. In the meantime, there's heaps going on at the Library of Birmingham Discovery season, including a Supersonic-esque line up at Bring to Light 25-27 October, featuring Dinos Chapman, Robedoor, Josephine Foster, Masaki Batoh, High Wolf and more