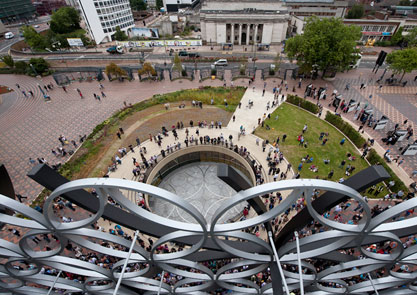 What a day! The Discovery season began yesterday, celebrating the opening of the Library of Birmingham.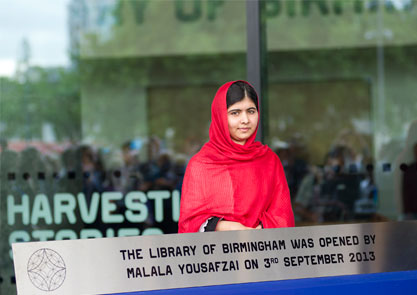 The day began with the library's official launch, with special guest Malala Yousafzai, the 16-year-old education activist and campaigner for the rights of women and girls. Malala launched the library in front of the world press, and there were over 10 000 visitors over the day.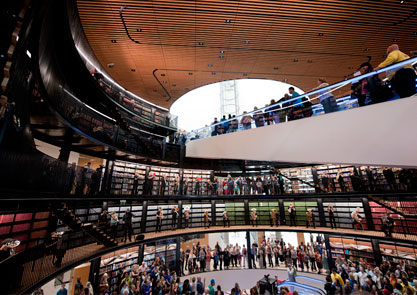 The season began with a magnificent performance by 100 + brass players. Encircling the crowds in the Book Rotunda, Together We Breathe brought together horns, trumpets, trombones, cornets and tubas to create a mass of sound to a huge crowd of visitors . Here's a little video of the performance and you can see footage on the BBC Culture Show next week
Juneau Projects also invited people on a vegetable quest; you can see their vegetable characters on the third floor terrace. They'll be doing another workshop on Saturday 28 September.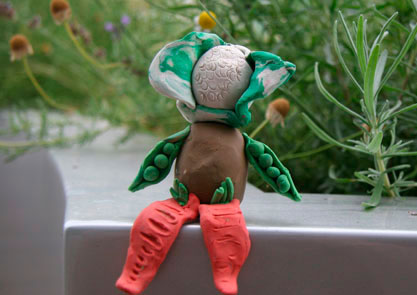 The Commentators are in residency at the Pavilion all week, commenting on all the activity in the new building, from the peculiar, to the mundane (we've particularly been enjoying their sartorial judgements, big fans of the pashmina it seems) You can hear their commentary online.
There's tons going on over the next four months. Read the brochure online and we hope you enjoy the Discovery season.