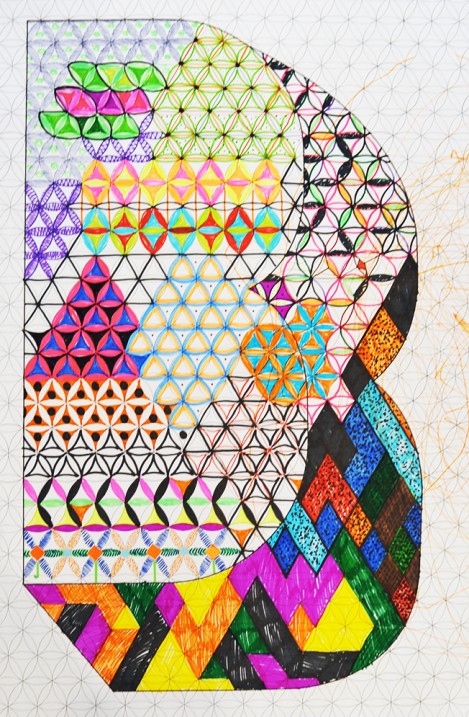 Image courtesy of Morag Myerscough
This weeks residency in the Discovery Pavilion is led by Studio Myerscough,based in the foyer of the brand new Library of Birmingham. They are inviting as many people as possible to come along to The Pavilion to join in designing a new typeface using the facade pattern of the building as the base grid. Each day they want you to create 4-5 letters, you can design all 4 or just one whatever you fancy. Tuesday was A-B-C-D Wednesday E-F-G-H Thursday I-J-K-L and so on.
They are also creating a full alphabet by decorating the outline letters as shown above, these letters need multiple contributions, so please come along and join in, you'll be surprised at how addictive making patterns can be.
Thanks to everybody who got stuck in yesterday we are collecting an amazing set of designs. Studio Myerscough are in residence until Sunday and all activity is free – what's not to love.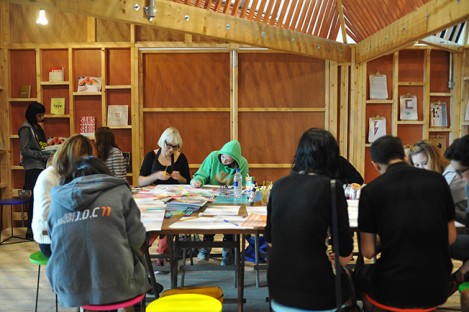 In addition Morag Myerscough will be presenting an instinctive journey through colours patterns and her design practice at Volume, accompanied by fellow designer and collaborator Luke Morgan and his band The Highliners (including Ginge former Meteors drummer) creating a punk rock design performance! This will be headlined by Bill Drummond. Tickets available HERE