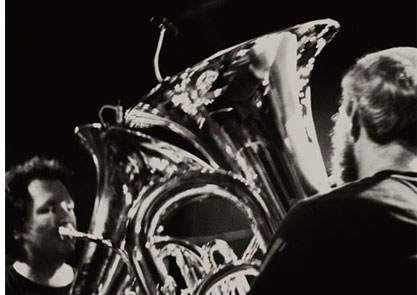 We're really pleased to invite doom tuba group ORE back to support the mighty OM on Tuesday 26th November. Last September, ORE set the perfect opening atmosphere for a gorgeous OM set at the Rainbow, and their brass take on doom left a real impression on OM who requested their return!
Just three years into their dual-tuba project, Birmingham's ORE continue to evolve rapidly. From early drone/doom beginnings their music has lately drawn inspiration from Indian classical music and other improvisational influences to become something much more difficult to define.
Autumn 2013 sees them celebrating the release of their new double A side 7″ in collaboration with Japanese noise master KK Null on Endtyme Records (a record born from their Supersonic 2012 collaboration), and for this performance they will be joined on drums by regular live collaborator and jazz percussionist Lydia Glanville.
OM and ORE will play the Rainbow Warehouse on Tuesday 26th November, tickets are available via www.theticketsellers.co.uk