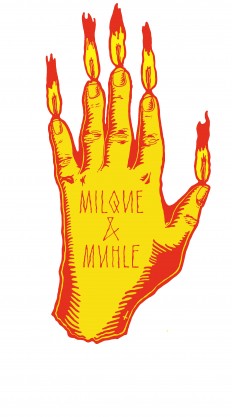 From a new library, to a new record shop – Birmingham is really bucking the trends!
"Milque & Muhle is an independent record shop based in Birmingham's Custard Factory. Coming from a combination of music and art backgrounds Milque & Muhle is the creation of Nathan Warner and Ellena Donlon, recognising Birmingham's demand for a unique music outlet, they hope to be a place where people can find rare material and discover the new.
Milque & Muhle not only provides vinyl and cassette, covering all left field material from Punk/Hardcore, Metal/Doom through to Industrial, Jazz/Free Jazz, Psyche, Soundtracks and Experimental; You will also find music fanzines, comics, presses and occasional art prints. With due course Milque & Muhle hope to curate local gigs and music/art based events targeted towards curious audiences in Birmingham."
Birmingham's newest record shop will open on 21st September, from 10 am – 6 pm (located next door to the Custard Factory reception), followed by an evening of live music from Black Veins, Female Smell and Ghold with DJ sets from Nicholas Bullen, David Grindi and Scott Johnston held in Muther's studio Digbeth from 8 pm, free admission.