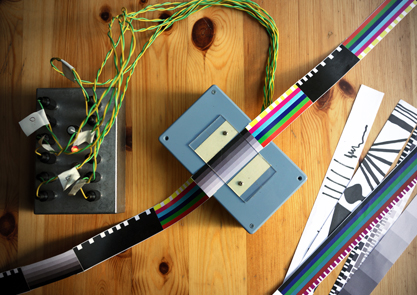 The Discovery Pavilion is housing an amazing series of residences, with each creative setting up home in the bespoke space for only a week, so catch each residency while you can!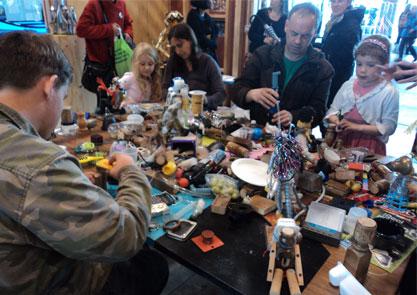 2arttoyguys spent last week making beautiful vintage sci fi models, and decorated the space all things retro science fiction, including a full size recreation of HG Wells' Time Machine! Lot's of people joined in, creating their own models from recycled materials.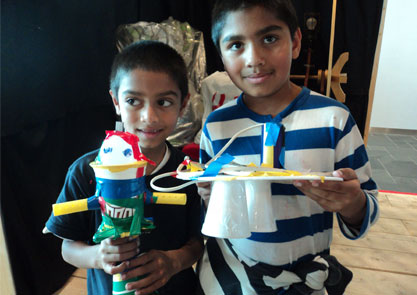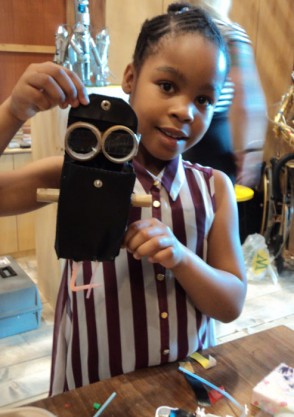 This week you can explore The Sound Trolley, a collaborative effort between David Morton and Sam Underwood, it is a whimsical audio creature that contains an array of electronic and acoustic sounds. It is controlled through an accessible interface and features an optical sequencer at its core; triggering sound as the trolley is pushed around on floor patterns made from vinyl. These designs will determine what sound the trolley emits when it is manoeuvred over them. It's a playful vehicle of sonic delights, waiting to be driven by you.
The best way to experience The Sound Trolley is by having a go. Drop in and try it out, or sign up for a workshop to explore its full potential. Be treated to an extremely fun installation from a wildly unorthodox pair of artists. In the words of Sam Underwood "It's what humans do with it that really brings it alive."