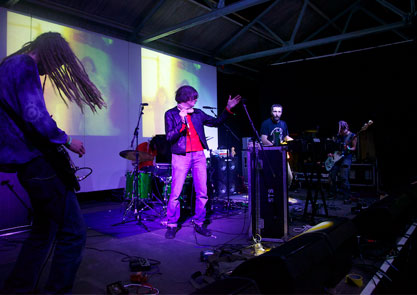 Some good news and bad news. Sadly, due to personal circumstances Josephine Foster is no longer able to come
to Birmingham and her performance at Bring To Light is cancelled. We really hope to bring back over soon.
But Gnod have joined the bill and will play Saturday night in the Library. You can purchase tickets via www.theticketsellers.co.uk
"Mainlining a torrent of psycho-delic, reverb drenched, doomsday motorik and improvised sounds is the master and mystery of Gnod. Audiences have come to expect bizarre humanoid toasting over cosmic synth eeriness pinned down with a combination of duelling deep-vein-thrombosis juggernaut riffs and heart-pounding beats. Gnod explore the possibilities of a big, awesome sound with an uncompromising aesthetic.
To date the band have releases with Not Not Fun (USA), Blackest Rainbow (UK). Tamed Records (France) and Rocket Recordings (UK) to name a few and are gaining a cult following on the live scene in grimy venues & dark club spaces all over Europe with their head-spinning, mind-bending, bowel-shaking live shows."