Courtesy of HFT Media here is a video of Sleaford Mods performing on Friday night at Bring To Light.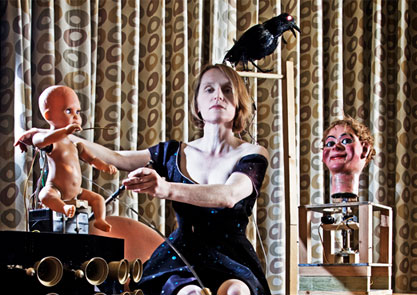 Today will see performances from Sarah Angliss who mixes theremin, saw and electronics with an ensemble of strange automata , Delia Darlings pay sonic homage to pioneering composer Delia Derbyshire, Laurence Hunt explores the realm of sound via drums/percussion, Brain Pulse Music created by Japanese artist Masaki Batoh (Ghost), Clipping mix gangster rap, music concrete and harsh noise and we finish off the weekend with a live performance unlike any other by Evil Blizzard, comprising of four bassists, a singing drummer and a baby's head theramin.
We kick off at 2pm – tickets are still available on the door.
Sunday 27 Oct
Library of Birmingham Studio Theatre doors 2.00
2.00         A celebration of the pioneering composer Delia Derbyshire
4.30         Laurence Hunt
5.30         Sarah Angliss
6.45         Masaki Batoh
8.15         Clipping
9.45         Evil Blizzard