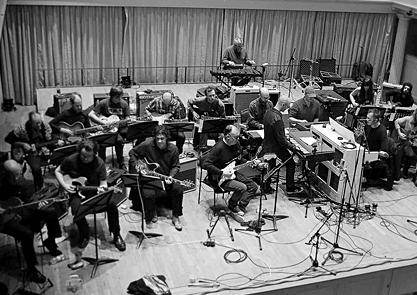 Sunday 24th November at Library of Birmingham
Adrian Utley Guitar Orchestra – Terry Riley's 'In C' + Pram
Adrian Utley (Portishead) brings together an orchestra of electric guitar players to interpret Terry Riley's 'In C'. Written in 1964 and perhaps one of the most influential pieces of music from the 20th Century, one that established minimalism as a music genre, In C's simple musical rules – 53 musical phrases in C and no duration – allow for infinite variations. Utley's impressive Guitar Orchestra is augmented by percussion and organs making for a vintage and mesmeric sound. The effect is an organic musical experience very much created in front of the audience both fragile and thunderingly uplifting.
We have recruited a number of extra players for this performance to make it truly unique, including members of Mugstar and Sunday Mourning.
Birmingham's Pram craft fairytales from concrete reality. The second city's spin cycle of perpetual renovation, from the slum clearances to its current cosmetic upgrade, is etched in Pram's restless groove, an endearing and gently refusenik mix encircling early Rough Trade innovators The Raincoats, astro jazz, sci-fi soundtracks, creepy Victoriana, tropical analogue and tumbledown funk.
www.myspace.com/pushthepram
Book tickets now via www.birmingham-box.co.uk