This blogpost was written by Beth Bramich for Eastside Projects, they present The Paperless Stack panel discussion on Saturday 7th December at Library of Birmingham, part of Volume.
The new Library of Birmingham is a huge investment in a public resource for the city at a time when the future of libraries across the country is uncertain.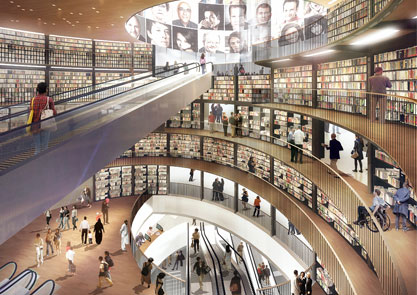 Interior, the Library of Birmingham. When explaining her vision for the Library lead architect Francine Houben said, "We don't know what the future of the library will be so we have designed space for change, to last over the next 100 years."
The new Library is intended to act as a centre for the community. Aiming to transform lives through learning, knowledge and culture, its remit stretches far beyond what we might expect from a traditional library, offering spaces to socialise, access local history, develop a business plan, attend a theatrical performance, visit an exhibition and more. But as much as the new Library embraces its many roles and seamlessly incorporates new technology throughout, it puts books at its heart.
The Library has been built to house a collection of over a million physical books, including printed materials dating from the 17th Century housed in the Shakespeare Memorial Library, but it has also been shaped by the digital innovations that have developed over the last two decade in publishing.
New digital formats for books are revolutionising the way we read. Accessed both through computers, mobile phones, tablets and dedicated devices, e-books offer readers instant access to the books that they want, and additional features such as search functions and a networked reading experience. E-book sales surged during 2011-2012 (in the US surpassing sales of hardcover books for the first time in early 2012) and while they have levelled somewhat in 2013, demand remains high from those who have been completely converted to e-ink, to those who now happily read across many different formats.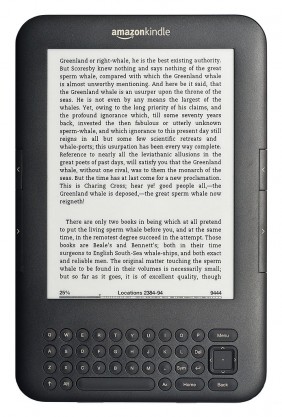 Third generation Amazon Kindle, showing text from the novel Moby-Dick.
At the same time as all these books, both print and digital, are being read, whether downloaded, bought online or picked up in your local book store, library usage is down. This is putting libraries, particular small local libraries, under pressure, as cuts to funding for local authorities are causing all spending on public services to be scrutinised.
One potential area for attracting new library users is to offer e-books as part of regular lending services. E-lending, where e-books can be borrowed from a library in the same manner as a physical book for a limited period of time, has had several set backs as a number of models for providing access to books and protecting their copyright have been put in place and then had to be re-worked as technology develops. A sustainable model that benefits publishers, libraries, authors and readers is still very much desired.
In the context of the new Library, which has responded to the challenges facing libraries by re-imagining its purpose and function, putting great emphasis on diversifying what it can offer and improving access to digital facilities, it is important to ask how all libraries can be resilient and adapt to the changing needs of their users.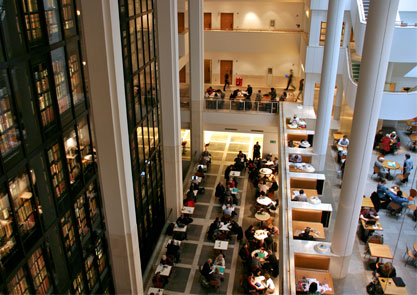 View of the King's Library at the British Library. Photograph by Mike Peel.
Access to e-books is just one part of a larger conversation about what the public want and expect from library services today. Could a new breed of centralised super-library, offering online access to their resources, completely replace the local library? Do we even need physical libraries or would public money be better invested in, for example, offering greater access to the Internet?
The Paperless Stack will open up a debate about how new technologies used to translate and publish books in digital formats are affecting existing libraries and shaping the libraries of the future. With a panel of representatives from within the library sector, including Brian Gambles, Director of the Library of Birmingham and Lucie Burgess, Head of Content Strategy, Research and Operations at the British Library, the publishing industry and in the field of design this will be an in-depth discussion about what the library as an institution might become.
Saturday 7th December, 3pm.
Eastside Projects presents The Paperless Stack
Library of Birmingham
Free, booking via www.birmingham-box.co.uk