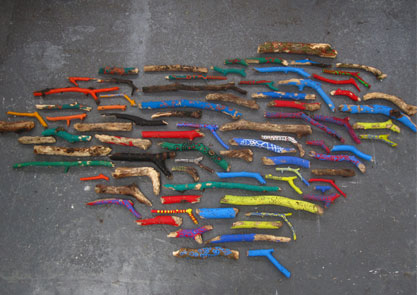 Trading Post is an exhibition of art 'for trade', a cornucopia of work made by artists from Birmingham and beyond. Taking a cue from the TV classic Multi Coloured Swap Shop, all the artworks in the exhibition will be available to swap. Visit the Pavilion in the Library foyer, peruse their wares and make an offer.
Offers can include time, skills, things or expertise – anything except money of any currency – 'art for a haircut', 'art for cake', 'art for life coaching' 'art for welding' for example. Once an offer has been made it
will be made public and if the contributing artist decides to take up the offered trade the swap will be arranged. Bartering and negotiation is welcome, and encouraged. .
Trading Post is presented by ESP (Extra Special People). This project is an extension of  'Trade Show', a group exhibition at Eastside Projects that runs from 7 December 2013 – 22 February 2014.  ESP is Eastside Projects' associate members scheme.
Events:
Thursday 12 December 2013, 6.30-7.30pm
Matthew Raine will give a talk on Marxist Economics during which artist Faith Pearson will make a series of small sculptures available for exchange to those attending.
Saturday 14 December 2013, 2-4pm
ESP members will present a series of conversations and performances.
List of artists:
Stuart Barnes / Leah Carless / Carruthers & Cresswell / Mateus Domingos / Freya Dooley / Mathew Ferguson / Bob Gelsthorpe / Andrew Gillespie / Calum Greaney / Amanda Grist / Aly Grimes / Maya Darrell Hewins / Kurt Hickson / Jim Howieson / Sarah Isaacs / Sam Jones / Ayse Kolu / Lucy McAllister / Kat Newman / Dan Newso / Susie Olczak / Faith Pearson / Sarah Silverwood / Laura Reeves