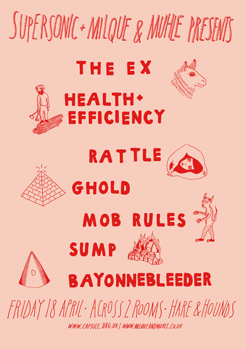 On April 18th, Capsule and our friends MILQUE & MUHLE will be joining forces to put on a killer night of music held across two rooms at Hare & Hounds. Tickets from HERE
Capsule's stage will be headlined by legendary Dutch punk/noise/jazz/whatever quartet THE EX with support coming from
drumming duo RATTLE and experimental rockers HEALTH & EFFICIENCY. Meanwhile, Milque & Muhle will present their own eclectic mix of acts including GHOLD, MOB RULES, SUMP, BAYONNEBLEEDER + DJ SETS.
The very talented Ellena Donlon from Milque & Muhle has created this fun poster for our evening of collaborative co-hosting. With such a diverse line-up we know it's going to be a great night, so don't miss out. Tickets include entry to both rooms.
Milque & Muhle website here
Born out of the punk explosion, when anything and everything was possible, the band have still managed to retain both curiosity and passion for their music. Using guitars, bass, drums and voice as their starting point they have continued to musically explore undiscovered areas right up to the present day.
For more info on the whole line-up go here.Tickets are available to purchase here (Tickets allow entry to both stages)