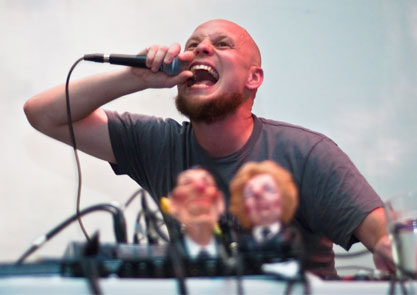 Photo credit: Pete Ashton
Capsule are pleased to announce the addition of GLATZE to our upcoming MELT BANANA show this May 27th, tickets HERE.
Glatze is back! After a brief hiatus the one-man musical loon (Sam Underwood) has been coaxed out to play by the prospect of supporting Melt Banana again, for old times' sake. Glatze's first gig for Capsule was this very same support slot, back in 2009.
Expect the usual live improvised electronic mayhem, with just a hint more "mad professor" than "young buck". He promises to do his very best in support of one of his favourite live acts…
Japanese noise-rock innovators MELT BANANA return to Birmingham's Rainbow Warehouse this May 27th and are supported by Glatze + Thrilling Headgear. This is one show you do not want to miss! Tickets available now from HERE.