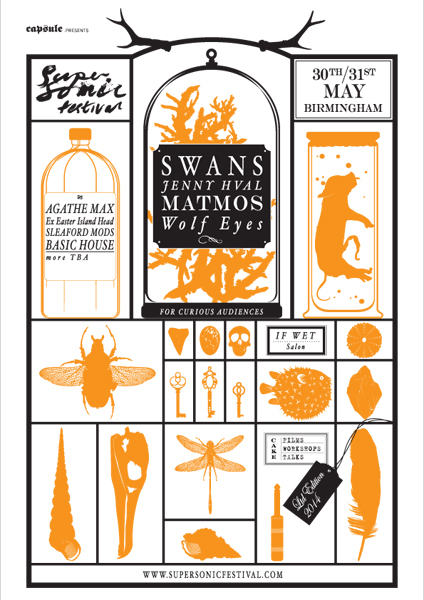 Back by popular demand and after a successful 10 years of existence, Supersonic Festival return and are taking the event back to its core values
by curating 'Supersonic Festival Ltd Edtn' an intimate two day event. On 30th and 31st May, Capsule present Supersonic Festival Ltd Edtn and shall return to the Custard Factory where it all began.
Since the inception of Supersonic Festival in 2003, Capsule have firmly established the event as a unique, inner-city festival, with an undeniably vibrant atmosphere, always presenting a variety of performers – the inaugural event featured the bewildering blend of Coil, DJ Food, LCD soundsystem, The Bug and more – and where the film programme, workshops and exhibitions are as paramount to the event's atmosphere as the live performances. Year in, year out, Capsule unite discerning music fans, embracing eclectic tastes and have over the years adapted a creative space for music lovers, musicians, artists, filmmakers, record stalls and independent businesses to thrive.
As this is a limited event, there are only 400 weekend tickets available at just £45 and they will be going on sale on Friday morning at 10am, so grab them while you can via the www.theticketsellers.co.uk
Supersonic have already confirmed the billing for the event, which will take place at a new space within the Custard Factory, and are delighted to welcome back Swans. Michael Gira, Norman Westberg, Christoph Hahn, Phil Puleo, Thor Harris and Christopher Pravdica are no strangers to Supersonic Festival, and are thrilled to play host to their infamous, dominant and strikingly powerful live show.
Baltimore duo Matmos shall bring their dizzyingly diverse assemblage to Supersonic Limited in support of their 2013 album. Their music comprises stomping techno, eerie synth
jams, musique concrete, Latin rhythms, and Ethiopian music, at once at home in the academy, the art gallery, the nightclub and the noise warehouse, perfect fit for the festival then.
Liverpool based ensemble, Ex Easter Island Head, will bring their expanded Large Electric Ensemble which includes twelve prepared electric guitars and drums to create a maximalist wash of amplified strings and droning overtones. The ensemble adopt a new vocabulary of playing based around various guitar preparations, from billowing harp-like arpeggios to 'bowing' the strings with allen keys to produce luminous upper register drones. Microtonal intervals create shimmering tones akin to the struck metallophones of Balinese gamelan, whilst the thrum of electrified strings creates a dense undertow of singing harmonies. Scored in custom notation the piece places free flowing passages alongside conductor cues, allowing the players to collectively create a distinctive sonic landscape. What Supersonic event would be complete without something special such as this?
Supersonic are pleased to welcome back, the infamous blistering noise of Wolf Eyes. From touring with Sonic Youth and Andrew W.K., Wolf Eyes have crossed borders into popularity which few other such confrontational units of their ilk have been able to and kept straight and narrow on their blazing path, and are on top form. The overwhelming force of Wolf Eyes must be seen to to be believed.
Sleaford Mods will bring their aggressive verbal onslaught to the Custard Factory, a great setting to spout about all that is contrived and connected to the day-to-day hammer of low paid employment and domestic situations arising from that trap.
Also returning to the festival, is French artist Agathe Max. With an elegant command of melody and a strident use of rhythm, Max creates dynamic, fast-flowing loop pieces that encompass noise, post-classicism and krautrock with nods to the High Lonesome Raga as filtered through Henry Flynt.
We warmly welcome a rising talent to this rich mix in the form of Basic House, the work of the UK's Stephen Bishop, the man behind the ever more impressive label that is Opal Tapes and also vocalist of Drunk In Hell who played an unforgettable set at Supersonic in 2012. His textural and rhythmic explorations are fast growing in acclaim, described as "somewhere between Kassem Mosse, The New Blockaders and Zoviet*France."
Finally, provocative Norwegian singer, composer, lyricist and writer Jenny Hval shall perform at Supersonic. Multidisciplinary and transgressive are words often employed to describe her art, but Jenny Hval's polyphonic artistry is in fact seamlessly interwoven between musical, literary, visual and performative modes of expression. Despite her young age, she has already infused, carved and modulated an artistic voice that is altogether present, accessible and obscurely complex at the same time. We cannot wait!
Let's not forget the other elements which always make Supersonic so special, the workshops and participatory events. Supersonic have selected If Wet to feature at the festival. If Wet is a monthly event of sonic exploration, usually held in a rural village hall; chaired by musical instrument designers MortonUnderwood. Part show and tell, part test bed, part salon. A place for artists to showcase their latest sonic works and research. A place to revel and discuss. After a successful inaugural season MortonUnderwood have decided to extend the reach of If Wet beyond the village hall and it is with great pleasure that they will transport their distinctive event to Supersonic 2014.
Supersonic Ltd Edtn will launch Capsule's inaugural 'Labs' (artist development and commissioning scheme) devised to create more opportunities for commissioning experimental, cross-disciplinary art. More information about this will be coming soon.

Bill Drummond: The 25 Paintings
Legendary musician and artist Bill Drummond will begin a twelve year 'World Tour' under Spaghetti Junction marking this momentous event with an exhibition at Eastside Projects.
The exhibition focuses on 'The 25 Paintings', a series of artworks that signpost actions Drummond will perform across Birmingham during his three month stay in the city including, but by no means limited to, giving away bunches of daffodils, discovering Dead Oak Rings, building rafts, hiding in cafes, making beds, sweeping the streets clean and brewing tea. Also on show will be The SIXTY Posters, The 25 Sixty Second Films, an evolving selection of photographs, a globe of the world and a large map of the city.
www.eastsideprojects.org