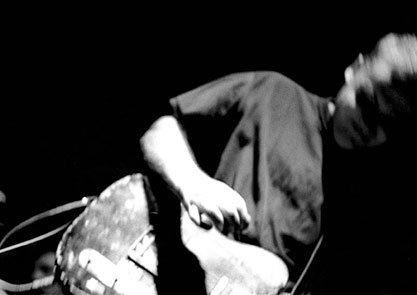 Image: 15Question.net
Capsule welcomes adventurous, innovative Dutch band The Ex to Birmingham this April 27th. The band will headline an extraordinary night of music at Hare & Hounds on April 18th which will include two stages and a multitude of bands (for more info on the line-up go here). Tickets are available now from here.
15Questions.net recently conducted a – you guessed it – 15 question interview with The Ex's guitarist Andy Moor. A guitar play for 27 years, Moor has experimented with numerous genres and seemingly has no intention of stopping now, choosing instead to expand his musical repertoire even further through his various collaborations and work within sound art. We've picked out a few titbits for you below but this interesting interview can be read in its entirety here
When did you start playing your instrument, and what or who were your early passions or influences?
I began playing guitar in my bedroom. When I was about 17… learning chords from a 'tune a day' book and playing along with records. My mother gave me her classical guitar because she was about to become an acupuncturist and sensitive
finger tips are needed for reading pulses and guitar playing is a no-no. My first influences were the giant rock bands like Led Zeppelin and Jimi Hendrix and later I discovered Gang of Four, Sonic youth, The Fall and a lot of African music and this became a much stronger influence on my playing once I started playing 'live". But the biggest influences have come from other musicians I have played with, particularly Dog Faced Hermans, The Ex, Kletka Red, and many individual musicians with whom I have collaborated.
What do you personally consider to be the incisive moments in your artistic work and/or career?
Forming the band Volunteer Slavery & Dog Faced Hermans in Edinburgh in 1986 and in 1988 seeing The Ex live for the first time in a pub in Sheffield in 1988 and joining the Ex in 1990.
Playing with Tom Cora and The Ex was also a great shifting moment for all of us. Equally when we started a project with Ethiopian saxophonist Getachew Mekuria. Hearing and seeing Big Flame, Sonic Youth, Don Cherry, Art Ensemble of Chicago, the Birthday Party, Han Bennink, Konono No 1, DJ Rupture, John Butcher, Anne-James, Chaton. All of these concerts changed me fundamentally – on a musical level anyway. Discovering Ethiopian, Ugandan and Algerian music and Rebetika from Greece were also big moments in my musical life and working with Yannis Kyriakides was a big change in direction for me.
What are currently your main artistic challenges?
In the Ex I'm trying to learn how to play the baritone guitar using it as both a bass instrument and a chord instrument. It's a big challenge and I have a long way to go, but I love the sound. It's always a challenge with The Ex because we don't have a formula. We create new songs using a combination of collective improvisation and collective arrangement. Working collectively is always a challenge. Working with Yannis Kyriakides, Colin Mclean and Anne-James is also a big challenge as I am working with primarily electronic sounds (especially with Yannis and Colin) and trying to find a way to fuse my analogue electric guitar sound with these incredible sounds they produce. With Chaton it's more of an adventure because I'm working with someone who does not see himself at all as a musician … though I hear many musical aspects in his poetry.

How do you see the relationship between sound, space and performance?
They are all extremely important, each one effecting the other. Awareness of the acoustic space, especially during free improvisation, is vital. I particularly like how John Butcher approaches this. He is hyper-aware of the resonant frequencies in the room and works with them in relation to his own sound but also to the other musicians he is playing with. When I improvise I focus a lot on sound. Sometimes I try to blend a sound or create a texture with another other musician and I am thinking more in terms of rhythm or frequencies than notes or chords or melodies. To me, this is all musical and of course performance is vital, how one's body moves and relates to the music is very telling and revealing. I don't feel I need to act in anyway on stage but I am very aware of the audience and the fact that they are watching as well as listening.
Finish reading the interview in full here.
Tickets for The Ex plus support from Rattle + Health & Efficiency can be bought here. This also includes entry into a second stage programmed by our friends and co-hosts Milque & Muhle who have lined up acts including Ghold, Bayonnebleeder, Mob Rules, & Sump.