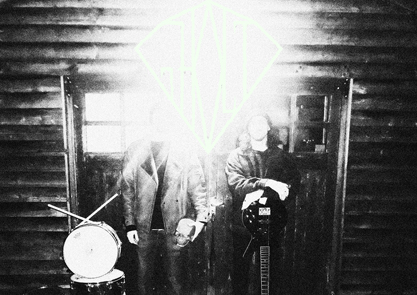 This week we put sludge duo GHOLD in focus. GHOLD will play as part of the musical showcase Capsule + Milque & Muhle have co-curated this April 18th headlined by experimental punk noisemakers THE EX. For a full list of acts playing both stages see HERE + tickets are available from HERE. You can also purchase
tickets in person at M+M (Digbeth Custard Factory) and Polar Bear (Kings Heath) record stores.
Drums and bass sludge rock duo, GHOLD, have already gained recognition in their short time together, starting in 2012 in Brixton. With a heavy bass line and percussive drums, they pay homage to the early days of Sludge with bands like the Melvins, Karp and Godheadsilo. They've already got a string of releases under their belt, which considering their 2 years together, is pretty impressive.
"…Ghold are not your bog standard NOLA worshipping sludge troupe, however. There may only be two of them, but on their debut full-length alone ('Judas Ghoat') these guys demonstrate more engaging ideas than many bands do over the course of their entire careers." – Terrorizer.
Our friend Kez Whelan at Terrorizer recently interviewed GHOLD and we've picked out a few questions for you below, but be sure to read the full Terrorizer interview HERE.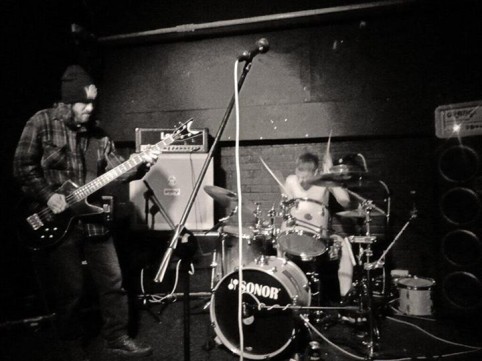 Image: Terrorizer
Could you tell us briefly how you both met and formed Ghold?
"We met at art college where we shared a musical interests at the noisier, heavier end of the spectrum and our tastes naturally overlapped at bands like the Melvins. At that time we'd been making music under our own separate guises for quite a while and digged each other's stuff so it seemed only natural to collaborate on something."
What kind of music are you both into? Who would you cite as influences?
Alex: "I would cite a lot of influences starting from the not so obvious; such as Leonard Cohen, Tom Waits, Captain Beefheart, Parliament, Funkadelic, Captain Beyond, The Beatles to Slayer, Jim Jones and the Kool Aid Kids, Melvins, Primus, Cherubs (TX), Shellac, Drive like Jehu, Karp, Harvey Milk – lots of 60's garage psyche, 70's kraut and heavy psyche, 80's progressive metal, funk, the list is ever on going…"
Paul: "As far as music goes there's a shit-ton. A lot of the old stuff from Thorrs Hammer, Burning Witch, Confessor and Corrupted really gets my blood up. Darkthrone are a continuous inspiration. I grew up with bands like Godspeed You! Black Emperor, Melvins, Aphex Twin, Converge, Lightning Bolt, Tortoise and Isis so I'm sure a lot of this has crept into the subconscious. Am also a big fan of electronic bass-weight music and dub (Digital Mystikz, Scorn, Shackleton, King Tubby etc). Recently really digging records by Dark Castle, Baby Killer, Raime, Wolf Eyes, Ulcerate and The Body. There's some really exciting music out there."
You guys are ridiculously tight when playing live. How would you describe the Ghold live show for those who have yet to witness it?
Alex: "Thanks, its something we try to keep up, we both share the idea that the tighter the better, plus there's only two of us, if one of us messes up it's easier seen. I guess that's the other thing is that regardless of how a record sounds it's always going to be better live with this kind of stuff (for now anyway, were only just starting to consider more recording techniques), we like to mix it up a lot, we change our setlist all the time and whatever you think we're going to play, we probably wont."
Paul: "A hard hitting, zero-bullshit weight-fest. With melodies!"
What's next for Ghold?
"Well we look ahead to a prosperous new year haha! We're working on a full-length record to come out at some point next summer, we shall be working with a cellist and touring with her for a few shows too. We're going to be part of a compilation record as part of the This Is DIY family (Ladyscraper/Death Pedals/Yards/USA Nails) so look out for that. We're working on lots of stuff so it should be a busy and productive year for us, look out for the material and come and see us play!"

GHOLD'S WEBSITE / FACEBOOK / BANDCAMP
Tickets for April 18th event can be bought HERE.