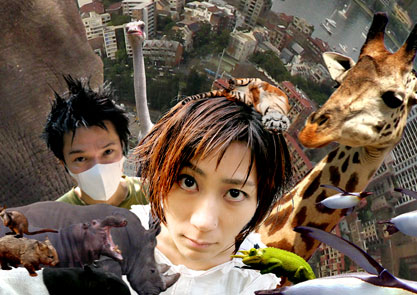 Capsule welcome back high-speed Japanese noise rock act MELT BANANA to Birmingham this May 27th [Tickets here]. The band will tour in support of their latest offering and 7th studio album, the well-received 'Fetch'. With this in mind, we thought we'd look back at the band's friendship with legendary radio presenter and record producer John Peel.
An early supporter of the band, Peel witnessed Melt Banana's live performance at Maida Vale in September 1999 and declared it: "Simply one of the most extraordinary performances I have ever seen and ever heard … just mesmerizing, absolutely astonishing."
Peel also described MB as "one of the world's great bands" and would go on to feature the band regularly on his radio show. This appreciation resulted in several live Melt Banana recordings for The Peel Sessions. You can listen to one of these extraordinary live sets below in the 2001 Melt Banana Peel Session:
Admiration between the band and Peel was clearly mutual, and after Peel's death in October 2004 Melt Banana issued the following statement:
"Today is the funeral of Mr.John Peel. For us, he was like Santa Clause. We feel so maybe because of his beard and his big round eyes, but not only because of that, of course. He gave us many things and did many thing for us, and it is difficult for us to express how much we thank him. We don't know how and when he first found us, but it seemed that he knew about us from the very beginning, like, from our 1st album. He played our music many times on his radio show, and it helped spreading our music all over the world, which is amazing. Every time when we visited U.K. to tour, he had some special events for us. He gave us a opportunity to play real-time-on-air live show at BBC, and another time, he invited audience to the studio for our peel session. Last time when we saw him was when we played a show for the radio one show case in Brighton in 2003. He was smiling. Thanks, Mr.John Peel, for your love to our music. We miss you. MELT-BANANA"
Now performing as a duo, MELT BANANA will be supported by GLATZE and THRILLING HEADGEAR at the Rainbow Warehouse in Digbeth, May 27th. Tickets for this not-to-miss show can be purchased now
from here.