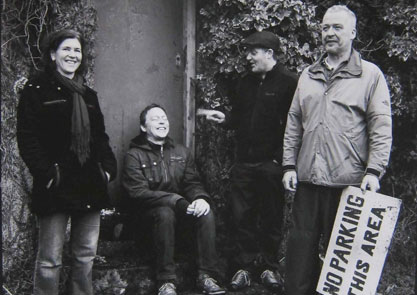 The Ex have just finished a 5 day festival in their native land (The Netherlands) to celebrate their 30+ years as a band. The Ex Festival was designed not as a retrospective, but was instead a forward-looking and adventurous celebration with friends and like-minded artists. Reviews have been coming in thick and fast for the Ex's performance at their headline festival and we think you'll agree they went down pretty well. You can read a few quotes from reviews of the The Ex's recent performances below as well as take a peek
at a recent radio performance.
For your own chance to catch the band live, get your ticket to their Birmingham show on April 18th. Tickets cost just £10 and include a line-up of 7 bands across two stages. An absolute deal! Tickets here.
"The Ex, laying down the law; righting the rule book. People groove; or gawp at the way Kat, Terrie, Andy and Arnold construct their sound. The Ex are like some weird machine, constantly being deconstructed and reassembled; a vehicle that never breaks, one that travels vast distances to create its own hinterland…" – The Quietus (Read more here)
"My word, the energy of the band is quite remarkable – and for a group some 25 albums into a career, that's a badge to be proud of. They were, at times, quite exhilarating here and when they weren't they were still bloody good. The Ex are one of the most honest, down-to-earth bands I've ever come across because you can tell there's no bullshit with them. They just get up there and play and when they do, you'd better stand back if you're not prepared to go with them because they kick up quite a fuss when they get going. They are, in the truest sense of the word, exceptional." – Incendiary Magazine (Read more here)
"Frankly they were unstoppable on this night; a mad charge into the valley, clanking and rattling around like a washing machine that's suddenly torn up its ASBO, escaped from the local electrics shop and chuntered down the road in search of a suitable mate. Tonight the slow burners were extra good; their cosmic, baked-earth rumble somehow allowing serene, zen-like moments in the heady atmosphere, allowing people breathing space." – Louderthanwar.com (Read more here)
Tickets for April 18th are available here. For full info on the line-up go here.