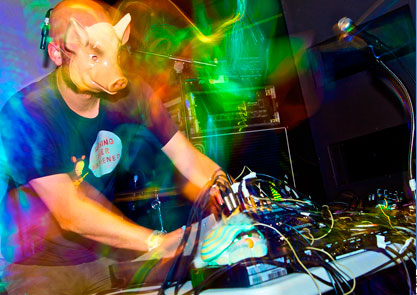 The stars have aligned once again to bring back a pairing we last saw together in 2009. Yes that's right folks, GLATZE return to support the one and only MELT BANANA this May 27th at the Rainbow Warehouse, in what can only be described as sweet, sweet déjà vu. Back then this was the first time Sam Underwood (the musical man/loon behind Glatze) had performed at a Capsule event. Since then Sam's been involved with numerous other Capsule events through his other projects which include Ore, MortonUnderwood &
also If Wet which will be brought along to Supersonic Festival this May.
We caught up with Sam to talk about his upcoming performance with Glatze. See our mini Q & A below. Tickets for this event can be purchased here.
5 years on, what's it like knowing you'll be back sharing the stage at a Capsule gig with Melt Banana all over again?
It means a lot to me. I have warm memories of my first encounter as an artist with Capsule and I have been a Melt Banana fan for many moons. Capsule have continued to support me since that day and I can't wait to dust Glatze off for another outing alongside Melt Banana; for old times' sake.
Sam, you're a busy man…you build instruments (MortonUnderwood), play in Ore and also run your own monthly event, If Wet, which will be transported to Supersonic Festival later this May. How do you balance all of these different projects and where does Glatze fit in?
Off the back of my sabbatical I had all these amazing strands I could pursue. For a while I did just that; I just kept throwing them against the wall to see what stuck. That's hard work though, as I was essentially saying YES to everything. Now I have a clearer idea of what aspects really appeal to me I have started saying NO to some stuff, in order to concentrate my efforts. This makes my life easier and my output more focussed. Glatze is quite distinct in all this, he just lurks on the side-lines waiting for fun opportunities to
play. He's my light relief.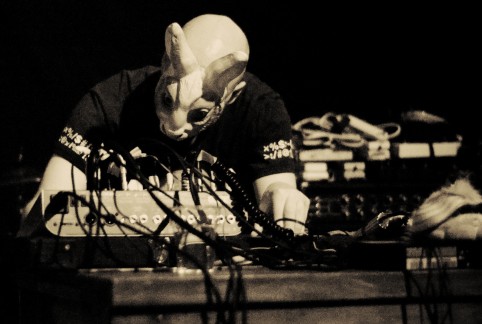 Image courtesy of Pete Ashton: Taken in 2009 during Glatze's last performance alongside Melt Banana.
Who are some of your musical (or otherwise) influences?
Glatze is all about attention grabbing, energetic live performances so draws influences from the likes of Henry Rollins, Afrirampo, rave DJs such as Sy and Slipmatt, and of course Melt Banana!
How do you go about writing a song? Do you jam and figure stuff out that way or is the writing process much more structured?
As Glatze, my music always has half an eye on what the live aspects of it will be. It mainly starts with studio production, although tunes range from fully improvised pieces that are constructed entirely live to heavily produced dancefloor vibes with me just twatting about over the top!
What can people expect from Glatze live?
Glatze is older and wiser now so expect more madcap inventions and theatricalities than ever before, and the usual fun-at-all-costs mentality!
For tickets to see MELT BANANA plus GLATZE and THRILLING HEADGEAR go here.