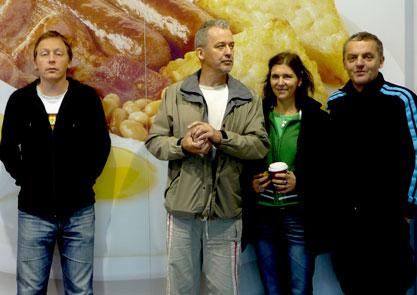 Folks doors are at 8pm tonight at the Hare & Hounds and we go right through till 2am – there will be tickets on the door or you can purchase yours in advance via theticketsellers.co.uk
Room 1
Rattle 8.30 – 9.15
Comprising of 2 of Nottingham's most unique and recognisable drummers (Theresa Wrigley of Fists and Katharine Brown of KOGUMAZA) and aided by Kogumaza's Mark Spivey they create a hypnotic and danceable music form that recalls This Heat or ESG even whilst remaining completely their own.
Health & Efficiency 9.45 – 10.30
H&E combine elements of punk-rock, no-wave, free jazz, psych-folk, minimalist composition, and improvisation into a dynamic balance that sounds spontaneous and harmonious in its execution.
The Ex 11.00 – 12.00
They are the most interesting musical unit in the world today…Go and see the Ex and you will hear rhythms you have never heard before…a sweaty seething party, an uplifting, joyful celebration." – The Quietus
12 – 2am DJ SETS FROM LUKE YOUNGER & CHRIS BRESS
Room 2
Bayonnebleeder 8.15 – 8.45
Influenced by bands such as Rorschach, Septic Death and His Hero Is Gone
Sump 9.15 – 9.50
Yorkshire two-piece combining a glorious fusion of Black Metal and Punk
Mob Rules 10.20 – 10.50
Arguably one of best bands on the UK Hardcore scene at the moment, Leeds anger-fuelled Powerviolence at its best.
Ghold 11.20 – 12.00
With a heavy bass line and percussive drums, this sludge rock duo pay homage to the early days of Sludge with bands like the Melvins, Karp and Godheadsilo.