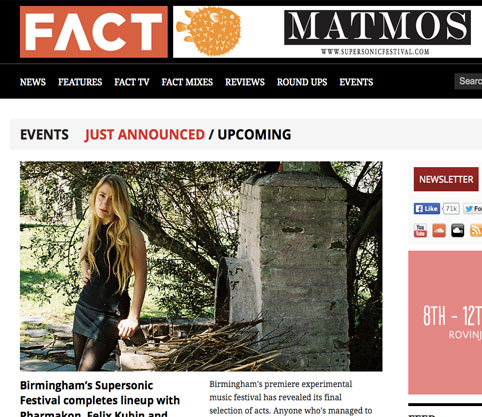 "Birmingham's premiere experimental music festival has revealed its final selection of acts.
Anyone who's managed to hike out to Supersonic before knows how bloody good it is, and how much its organizers have done to make sure it's a sidestep from the competition. While the majority of other festivals fight amongst themselves trying to snatch identikit lineups of bedraggled nostalgia-core reduxes and hype dance acts that'll be forgotten in six months, Supersonic has solidified its legacy by simply picking excellent music."
A wonderful right up from FACT Read full preview HERE
Don't miss out folks we have just released a limited number of extra weekend tickets but be warned they are going quickly and once they're gone they're GONE. Buy tickets HERE
Full line up: Agathe Max/Alien Whale/Anta/Backwards/Basic House/Chris Brokaw/Evil Blizzard/EX Easter Island Head/Felix Kubin/Jenny Hval/Kunnst/Matmos/Opium Lord/Pharmakon/Rattle/Sleaford Mods/Sly & The Family Drone/Swans/Wolf Eyes/Youth Man
+ Bill Drummond talk/If Wet Salon/ Film takover with Death Waltz Records + The Duke Mitchell Film Club – cake and much
more!