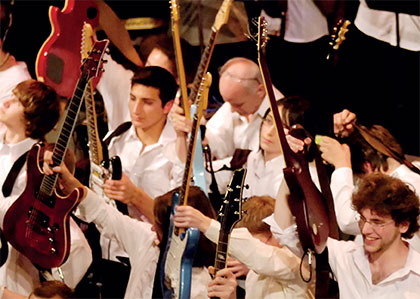 Capsule are partnering with this exciting project as part of the Frontiers Festival.
CALL OUT!!!
We're looking for participants to take part in A Secret Rose for 100 Guitars by Rhys Chatham – information about the piece, and the most recent performance in California last November, is here. Chatham was a pioneer of No Wave music in New York in the mid/late '70s, and from the late '80s onwards has been making these large-scale 'guitar orchestra' pieces. There's a Pitchfork review of his work here, also listing some of the many guitarists who've been performed in his pieces in the past from Thurston Moore to Modern Lovers' Ernie Brooks.
We're planning the first UK performance, for Birmingham Town Hall on 7 June. Rehearsals on 5 & 6 June. It will be a once-in-a-lifetime experience, and we have guitarists coming from across the world, from Baltimore and Buenos Aires to Balsall Heath. Alongside Rhys, the section leaders include Seth Olinsky (Akron/Family), Tobin Summerfield (Never Enough Hope, Crush Kill Destroy etc), and David Daniell (San Agustin, collaborator with Fennesz / Tony Buck etc); and the rhythm section has Laurence Hunt (Pram, Modified Toy Orchestra) and Sebastiano Dessaney.
Participation is voluntary for what amounts to a unique gig. You need to be a competent guitarist with at least a rudimentary comprehension of standard musical notation, and be available for rehearsals on the late afternoon / evening of 5 & 6 June, and for the performance on 7 June. The sign-up page is here: http://birmingham-secret-rose.frontporchproductions.org/