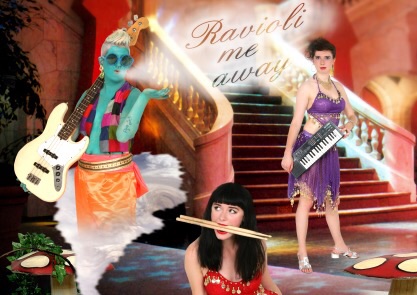 The formidable pairing of Supersonic and Milque & Muhle is delighted to announce that Ravioli Me Away will appear at the jam packed, two stage Xmas Cocktail at Hare & Hounds (13 December).
The all-girl triple threat of Sian (drums) Rosie (bass) and Alice (keys) is an unholy racket of fun post-punk noise with a satisfyingly kitsch presentation. Dangerously ambitious and delusional, Ravioli Me Away have been scaling the UK and Europe after firing off a limited run of 'The Inevitable Album' on Good Job Records.
Featured track 'Imagination' opens promisingly with a David Cameron speech set to the relentless drawl of funky bass and synth womp, before sinking into a hip, stream-of-consciousness rap and percussive chant that is unpretentiously political brilliance.
Tickets available from theticketsellers