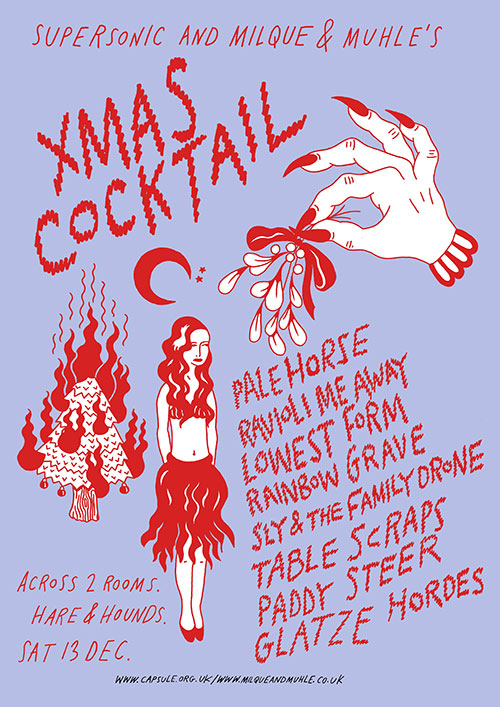 By far the best description of our forth coming event by the very talented writer/artist/musician Poppy Twist  (of Tablescraps fame) for the latest Brum Notes magazine.
"Paddy Steer and Glatze are for you if you're feeling that "all bands with drums, guitar and bass are so over, man… give me theremin, xylophone and an assortment of mutilated dolls any day." Paddy Steer's set up looks a bit like one of those automaton bands that you see at the edge of a pier or whatever…with, like, a monkey on drums. Which is obviously good. Glatze self-describes his 'thing' as Romany Surf Step. I don't know what that means but I'll take his word for it. Glatze means 'bald' in German, which, to be fair, is 100 per cent accurate labelling. I like the cut of this man's jib.
The Lowest Form and Palehorse are ear-melting, spittle-soaked hardcore bands from the capital. Both have impressively evaded the usual music industry hype-train, so this is your best chance to see two incredible bands that you may not have heard of before. Listen to Lowest Form's 'Negative Ecstasy' EP online (it's out on Iron Lung records), to prepare yourself.
Ravioli Me Away are kitsch as f*ck and they give me a Slits Tradition-era Slits vibe. Imagination is their best song on Soundcloud at the moment. It samples a David Cameron speech and has the funkiest bass I have enjoyed this side of the 80s. Rainbow Grave is the new project of Nathan from Milque & Muhle and Nick from Napalm Death, which is precisely as good as it sounds.
Hordes are the blackest black metal and (along with Table Scraps) are representing Birmingham on the lineup. Sly & the Family Drone were a big hit at Supersonic last year with their unique brand of uncut industrial noise. I expect lots of headbanging. And then there's us. We're a noise-punk band and we're ace. In other words, expect ringing ears long after the last Xmas dinner sandwich is polished off on Boxing Day.
Read the full interview HERE
Tickets are available from theticketsellers or directly from Milque & Muhle