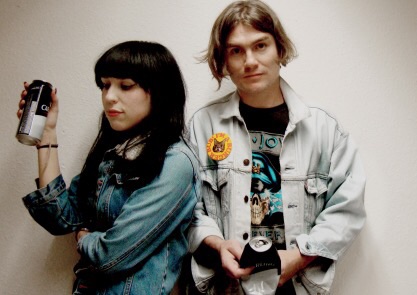 Birmingham DIY punk favourites Table Scraps is the devilish duo of Scott Abbott (guitar/vocals) and Poppy (drums/vocals). Built uniquely over a stand-up drum kit and a single guitar fed hungrily through three amps, the band have attracted slots with exciting UK acts Fat White Family, The Amazing Snakeheads and Slaves, as well as US Burger Records import King Tuff and Aussie rockers DZ Deathrays.
Following the release of debut single 'Bug' this year, Q magazine, the NME and Clash Mag all agreed that their Stooges-shaped racket (complete with an inspired puppet performance video) justified the hype. Another single will follow in early 2015.
Table Scraps will play at the Supersonic / Milque and Muhle Xmas Cocktail at the Hare & Hounds on 13 December.
Read a great interview with Table Scraps in Fused
Tickets available from theticketsellers