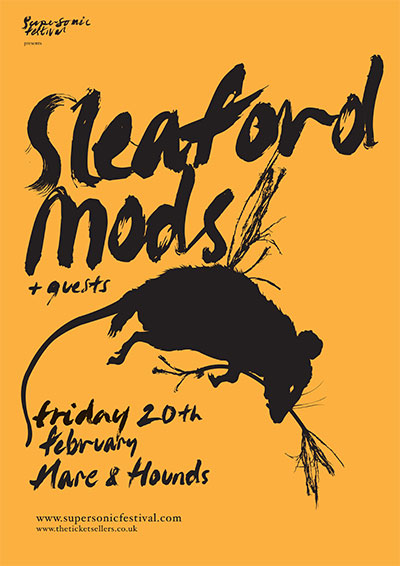 We're excited to welcome back Sleaford Mods to a sold out show at Hare & Hounds on Friday February 20th. Sleaford Mods are experiencing something of a meteoric rise, having just been announced for Primavera Festival and last year gaining accolades everywhere, including from Mark Fisher and Stewart Lee (not to mention some 'beef' with Noel Gallagher, perhaps a compliment in itself depending on your point of view).
Here is some footage from the duo's blistering live performance at Supersonic Festival Limited Edition last year:
Support for Sleaford Mods this February comes from Rainbow Grave. From the ashes of Backwards, Rainbow Grave play Primitive sludge punk…Ugly guitars: distortion, echo, feedback…Low rent caveman hate music…
Featuring:
Drums: James Commander
Bass: Nathan Warner
Guitar: John Doom
Guitar + Vocals: Nicholas Bullen (ex Napalm Death and Scorn)
Check out Rainbow Grave's music below:
Last but not least, watch this space for an announcement about Supersonic Festival 2015, which will be coming soon.