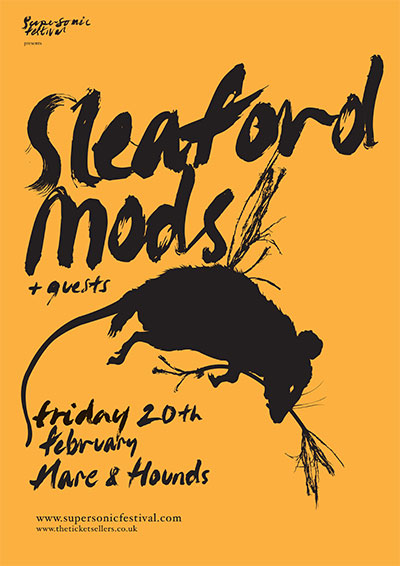 Sleaford Mods play a sold out show at Hare & Hounds this Friday. Doors: 8pm.
The quickening that brought 2014's acclaimed album 'Divide and Exit' shows no sign of waning, with Sleafords having recently released a limited edition 7″ single, I'm Shit at It, available to stream.
They are also set to make a crowd-funded film called Sleaford Mods: Invisible Britain, charting their upcoming tour:
'Taking its cue from the likes of Patrick Keiller's extraordinary Robinson Trilogy, the psycho-geography of Iain Sinclair, Mark Steel's in Town radio programme, and J.G.Ballard's comment "Feel alive, drive around the M25!", the documentary will be a combination of raw footage of the band, interviews with the band's fans, and scenes in and around the green and pleasant lands that have sunk into the quagmire.'
As if this wasn't enough, Sleaford Mods can still manage to squeeze in a bit of Noel Gallagher irking to boot.
Be sure to arrive in time for supports, Rainbow Grave and Youth Man on Friday too:
The only known pedlars of 'Low Rent Caveman Hate Music', Rainbow Grave recently posted 10 Million Tons of Shit, one of their self-described 'horrid' songs, online. Those of you who attended our Xmas Cocktail will be fully versed in Rainbow Grave's sludgy depths, and we're primed for a second round.
Youth Man always put on a blistering show and join us in a particularly exciting period, having last week released a video for Skin, a song featured on upcoming EP, 'Hill of Knives', out in April. Their latest single, Joy, can also be streamed or bought on CD via the band's BandCamp.
We also have not one but two DJ's setting the mood: DJ Defunkt Dialekt from the Irrational Media label will join us. Check out his Clockworks EP on BandCamp. Later, DJ X, one half of PCM, will be doing a late night jungle set to round things off.
Sleaford Mods return to Birmingham having played at Supersonic Festival in 2013. Make sure you don't miss out on this year's festival! Check the Supersonic website for full details of the line up so far, or go straight to our Kickstarter campaign to buy Earlybird tickets.
Over and out until Friday.