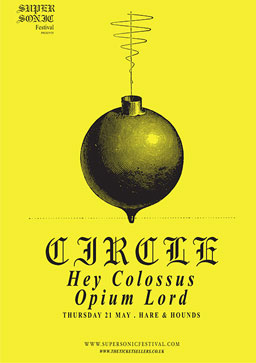 "I'm 100% sure that I would be a Circle fan, if I didn't play in the band. Circle is a terrific band that combines fine arts, stumbling in rubber boots, unrecognizable superiority of otherness, notorious rock & roll, and ecstatic self-disgracing. We are a marginal band who are easy to discard and painstaking to follow."

Jussi Lehtisalo, founding member of Circle
It's just over three weeks until our pre-Supersonic Festival warm up show, featuring three mysterious musical outlaws; the one and only Circle, Hey Colossus and Opium Lord. Get your tickets here.
Circle
Circle have constantly reinvented themselves, weaving hypnotic mantras out of exacting Krautrock beats, heavy riffs, arty noise, dark psychedelia, and soundtrack-like beauty.
www.circlefinland.com/
Check out the trailer for the upcoming live DVD, in which the pranksters make gratifyingly free and easy with subliminal advertising techniques:
Hey Colossus
Emerging in a haze of demented riff science and booze-addled abandon, Hey Colossus have carved out a notable niche for themselves in the British underground's murkier quarters.
rocketrecordings.bandcamp.com/album/in-black-and-gold
Opium Lord
Desolate doom-sludge with a coal black heart, redefining what doom can be. Filthy grooves meet abrasive noise to convey a menacing atmosphere akin to the dodgiest drinking establishments that only a band from Birmingham could make.
www.facebook.com/opiumlord