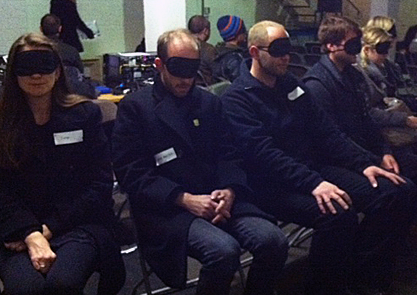 Capsule and Fierce Festival combined their expertise in producing cutting edge music, contemporary art and live experiences to create this very unique event, the Secret Show.
Blindfolded throughout, the audience were guided through Birmingham city centre to a warehouse space where they witnessed the immersive sounds of internationally renowned sound artist Francisco Lopez in a scenario designed by artist James Webb.
For Fierce 2012, Capsule also presented a night of performances featuring Liz Harris as Grouper, who presented her work Violet Replacement, a haunting performance comprising tape loops, field recordings and submerged atmospherics. Diamond Catalog stunned with disorientating, mutated dance music. Sian Macfarlane as SWLLWS presented a new work entitled 'Séance' incorporating family snaps, slides, and super 8 footage as well as found sounds. SWLLWS built further on these themes for a performance at Supersonic Festival 2012.