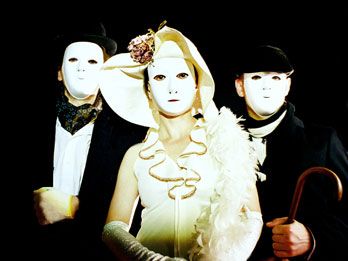 Capsule's showcase at Sonar Festival 2008 featured Pram and ZX Spectrum Orchestra, performing in the Sonar Hall.
Pram
'Uncomfortable harmony'
Offspring of the legendary Too Pure label, proudly rescued by Domino and praised by the most sophisticated critics from the very beginning, Pram is a strange delicacy that has survived the passing of time despite and thanks to its tremendous peculiarity. It is an absolutely original sonic universe that is unclassifiable – somewhere between science fiction and fairy tales. On stage, they give their bizarre sound a new dimension, and accompany their live show with audiovisuals that are as special and unique as their music.

ZX Spectrum Orchestra
'Bringing back the 8-bit aesthetic'
Clive One (or Brian Duffy) and Clive Two (that is, Mike Johnston) take their passion for retro hardware and the 8-bit aesthetic to the limit, by rescuing (twenty-five years after its birth) Sinclair's legendary ZX Spectrum, the personal computer that was a milestone in the eighties and introduced thousands of teenagers to the world of programming. Old school beats with a sense of humour and a nod to the great electro classics. And of course, absolutely everything is done with Spectrums